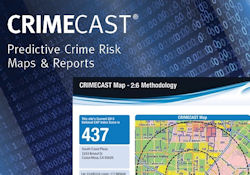 The real secret to having good data is knowing exactly how to leverage it to maximum advantage. For over 27 years,
CAP Index
has dominated the discipline it helped create - crime risk forecasting - in large measure because of the creative application of its proprietary data. One example is CAP Index's use of analytics to combine its industry-standard
CRIMECAST® Scores
with company data to create customized risk assessments that lead to insightful and actionable recommendations for security resource optimization.
CAP Index also works with
leading trade associations
to help them investigate key security and loss-related issues, trends, and best practices and communicate the findings to their members through research publications and presentations at annual meetings.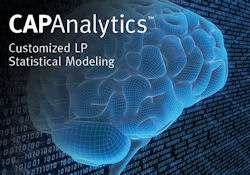 In collaboration with major industry associations like the American Bankers Association, the Food Marketing Institute, the Loss Prevention Research Council, the Restaurant Loss Prevention & Security Association, and the United Kingdom's Fashion Forum, actual industry crime and loss information is often benchmarked against authoritative
CAP Index
CRIMECAST Scores
.
For both industry groups and for individual clients, Basia Pietrawska, CAP Index's Vice President of Crime Intelligence Analysis explains, "We always strive to do one thing: empower them to make decisions based on objective data and statistics rather than subjective ideas about security and loss prevention."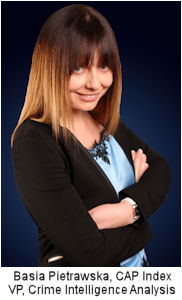 The results can be impressive. CAP Index created
customized risk assessment scores
for a large apparel retailer and delivered more than a 30% shrink reduction through an enhanced loss prevention strategy. A sporting goods retailer used its customized risk assessment to optimize its armored car allocation, which resulted in reduced losses and enhanced employee safety.
"The applications are almost limitless, whether we are aggregating data for a national association so its members can understand how they compare to industry averages or helping one company examine its crime trends or another company determine its most effective security measures, we are always helping security professionals make data-driven decisions," explains Pietrawska.
If you want help understanding what to do with your data, contact
CAP Index
. By performing a complimentary exploratory validation study,
CAP Index
can combine their proprietary data with your company's information to determine what data-driven decision-making options may be possible for you. To find out what yet-to-be discovered intelligence is hidden in your data,
click here to sign up for CAP's free, no obligation validation study
.
Basia Pietrawska
Vice President,
Crime Intelligence Analysis
267-506-6237
bp@capindex.com