ROCC'n the IAFCI
Mid-Atlantic and Carolinas Chapter Annual Seminars

Members of ROCC (Retail Organized Crime Coalition) were present at both the IAFCI - Mid Atlantic and Carolinas Chapter annual training conferences last week in Virginia Beach, VA and Myrtle Beach, SC. The conferences were attended by loss prevention and financial institution investigators & leaders, federal & local law enforcement as well as prosecutors. ROCC and the solutions it offers to LP and law enforcement were discussed with the attendees. ROCC is the avenue connecting LP investigators with federal agencies at the headquarter level - combating chronic retail organized crime and financial fraud through case referrals and training.




A few highlights...

Stephen Benjamin, CVS Health Regional Investigations Manager, received the prestigious Financial Crimes Investigator of the Year at the Carolinas Chapter with Tony Sheppard, ROCC board member and national manager of investigations - CVS, present. Pictured below from left to right are; Tony Sheppard, Stephen Benjamin and John Bridge - award submitter and Senior Inspector of the U.S. Marshals Service.



Attendees at the IAFCI Carolinas Chapter were asked to participate in the South Carolina Marine Corps Toys for Tots program producing overwhelming support for underprivileged children located in South Carolina.

A dynamic group of speakers presented on topics including:

● Retail organized crime
● Cyber Crime - including a live dark web presentation related to sites selling breached bank cards
● Human trafficking
● Social networks as a terror recruitment tool
● Exploitation of Wifi enabled devices

Want to learn more about ROCC, upcoming IAFCI training events or membership? Please contact Glenn Justus at gjustus@bn.com or visit the IAFCI home page for more details.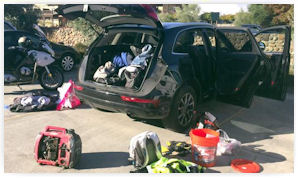 Sonoma County, CA: A Benicia man is being held without bail in the Sonoma County jail after Sonoma Police discovered a carload of stolen merchandise inside the stolen car the man was driving
And the man's female companion is being held on $10,000 bail. According to Sgt. Orlando Rodriguez, shortly after 8 a.m. Thursday, Nov. 12, deputies were sent to an address on West MacArthur concerning a suspicious couple who offered to sell a man a new Honda generator and/or a new leaf blower. The couple then wanted to know if there was a Lowe's in town. The man told them there wasn't a Lowe's, but there was a Friedman's Home Improvement. After the couple left, the man called the sheriff's office to report the incident. Deputies responded to Friedman's where they found the black Audi SUV that the man described. The vehicle had been reported stolen out of San Francisco on Nov. 7. The deputies located the man and woman in the parking lot. During a search of the vehicle, deputies found stolen property - including tools with tags and anti-theft devices still attached, North Face clothing and the $1,200 Honda generator - in the back seat and in the cargo area. Both Barnett and Jones have priors for theft and possession of stolen property and both are on probation for property crimes offenses. There is also a recommendation to the district attorney to charge the pair with possession of burglary tools. sonomanews.com

LaPorte, TX: Four busted in AT&T Burglary, charged with felony 'Engaging in Organized Criminal Activity'
Four men were recently arrested for their alleged involvement in a La Porte cell phone store burglary on Oct. 21. According to La Porte Police officials, patrol officers were dispatched to the AT&T store located in the 8700 block of Spencer Highway around 2:15 a.m. to investigate a possible burglary. Officers quickly arrived on the scene and discovered the store had been burglarized but the suspects had fled. "Fortunately, the AT&T corporation, using their own technology, was able to aid police in locating the vehicle in which the suspects escaped. La Porte Crime Scene units, processing the store later located a hole in the wall which they believe was created by the suspects as they entered an adjacent vacant unit within the strip center. yourhoustonnews.com

Hazel Dell, WA: Serial thief arrested; assaulted a Loss Prevention
agent at Walmart
A man suspected of shoplifting at the Wal-Mart was arrested Friday after allegedly injuring an employee while fleeing the store. Gary Lee Johnson, 53, of Portland made his first appearance in court Monday, charged with first-degree burglary. Officers responded following a report of a man running out of the Hazel Dell Wal-Mart after committing a theft. Security staff at Wal-Mart showed officers video footage of Johnson allegedly taking a car battery to the return counter for a refund. Although the serial number on the battery did not match the receipt, the store refunded the money. When confronted at the return counter, Johnson allegedly wriggled free of a store employee's grasp and vaulted over the return counter toward the door. As he leaped over the counter, another employee tried to grab him but slid and fell, scraping his knee and cutting his finger deep enough to need stitches. Store employees said Johnson had been banned from any Wal-Mart store by a June court order. In court records, investigators said Johnson has been involved in three other store thefts in the past six months, two at Wal-Marts in Clark County and another at a Fred Meyer in North Portland. columbian.com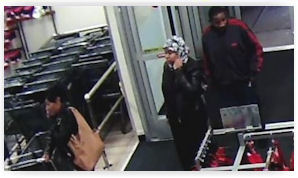 Evesham, NJ: Shoplifting trio strikes twice at Burlington Coat
A trio of shoplifters stole more than $1,000 worth of merchandise after hitting the same store twice in a three-week period, according to police. Police believe the male and two female suspects depicted in surveillance photos stole approximately $500 worth of merchandise on two occasions at the Burlington Coat Factory on 101 S. Route 73 in Marlton. They were spotted on Oct. 22 and again on Nov. 10. courierpostonline.com

Petaluma, CA: Two Unidentified men hit same store twice in an hour: over $1,000 stolen
Around 1:30 p.m. Saturday, a man entered the store, located at on North McDowell Boulevard, and stole merchandise. A few hours later, a different man entered the same store and also stole merchandise, police said. The combined thefts amount to about $1,000 in stolen items. patch.com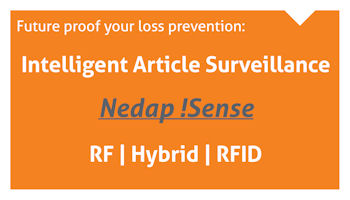 Lehighton, PA: ORC suspect hurls a bunch of bananas at Walmart Loss Prevention
Police say a 32-year-old Carbon County man allegedly hurled a bunch of bananas at store security Sunday as he tried to steal a TV and a vacuum cleaner. Authorities arrested the suspect's brother a day later on his own retail theft charges. Mahoning Township police report that Michael Rehrig tried to leave Walmart shortly before 1:30 p.m. Sunday, when he was confronted by store security. Rehrig allegedly threw a bunch of bananas at a loss prevention officer and fled with about $539 in merchandise that included a 40-inch television and a vacuum. Authorities say Rehrig was also involved in two thefts at the store on Saturday that netted three 40-inch TVs. He was arraigned Sunday on three counts of retail theft and two counts of criminal conspiracy. wfmz.com