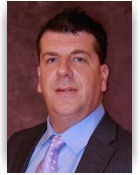 RANCHO CUCAMONGA, Calif. (November 12, 2015) -
USS, a global leader in product protection and security services and solutions, has appointed Charlie Lunney vice president of its growing Security Systems Integration group, which is focused on delivering stronger value to commercial customers. Lunney brings more than 25 years of security experience, and is known in the industry as a leader who understands the value of strong partnerships for success.
"Charlie brings a skill set and background to the USS team that matches our goals for the coming year and our overall company mission," said Doug McHose, USS' president. "As USS looks to amplify its presence in the broader security industry and expand our offerings to deliver reliable enterprise solutions to commercial facilities, Charlie's expertise will help us deliver exactly what each of our current and prospective customers need."
"It's an exciting time at USS, and our focus with our Security Systems Integration business is geared toward helping our clients redefine success"," said Lunney. "Technology has changed the industry and everything is more integrated now than ever before - our proven expertise in solving problems for the retail industry can now be leveraged to the wider security industry."
Prior to joining USS, Lunney served as senior director of Global Enterprise Sales for Tyco Security Products. Before Tyco, Lunney worked at GE Security and Sony Electronics. Lunney also has vast experience in the security consulting marketplace, where he spent many years with Kroll/Marsh & McLennan, a leading security consulting firm. During that time, he was assigned to many larger worldwide projects, including post-9/11 security projects.

About USS
USS is a U.S.-based, privately-held global leader in product protection and security solutions. USS is a leading integrator of video surveillance systems, access control and RFID systems. USS is dedicated to innovation and has more than 100 patents issued and pending. For more information, visit
www.ussinnovate.com
.