Macy's Thanksgiving Day Parade
A look behind the scenes of the Macy's Thanksgiving Day Parade from an LP operational perspective. Giving you a look at the complexity of coordinating large-scale national events with law enforcement and the measures taken by LP to protect the brand.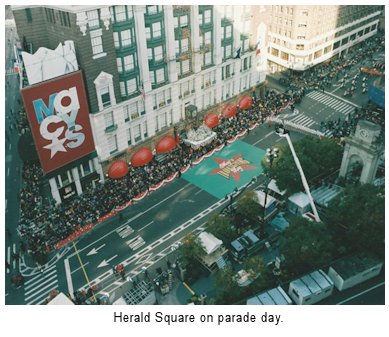 The 89th Annual Macy's Thanksgiving Day Parade took place on Thursday, November 26th 2015 at 9:00 am in New York City. It is estimated that upwards of 3 million viewers lined the parade route from the starting point at 77th Street down to its final destination at the Macy's Flagship Herald Square store at 34th Street. In addition, the audience on NBC's nationwide broadcast allowed another 50 million people to make the parade part of their Thanksgiving tradition.

The planning process begins in May. There are four distinct operations; rehearsal, balloon inflation, parade and dismantling/deflation. They are spread over four days. As the safety of attendees is of paramount importance, meetings are held with NYPD, FDNY, Port Authority Police, FBI and DHS to identify potential threats and develop contingency plans.

Today's planning involves open dialogue between Larry Sechuk, VP Special Operations - Macy's AP, and his team Dave Dagney, Director National Events and Walter Avelin, Manager of Law Enforcement Outreach with the FBI and NYPD. This year in particular, the frequency and urgency of communications was important. Any changes to the normal operation and protocols that were put in place had to be transparent to the viewing public and be seamlessly incorporated into the execution of the parade.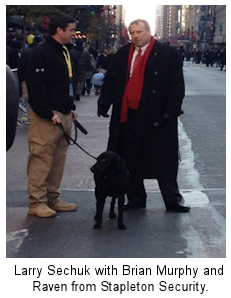 The Asset Protection team must also coordinate crowd control and protection for talent during rehearsals at Herald Square over two nights before the actual parade. One of the busiest crosstown streets, 34th Street, is closed each night to allow performers and the camera crews to coordinate timing and ensure that the marks are hit.

The Balloon Inflation takes place on Wednesday at 3pm on the Upper West Side with balloons on 77th and 81st Streets from Central Park West to Columbus Ave. This has become a major event as well. It draws tens of thousands of onlookers who want to get a sneak peek at the balloons. At 10:00 pm the process of clearing the inflation viewing audience from the perimeter around the Museum of Natural History begins. Once this is accomplished Central Park West must be made ready to stage the float convoy. This year 27 floats with a contingent of additional vehicles were part of the parade. The convoy is escorted by Macy's AP, Carlstadt Police, NJ State Police, Port Authority Police and NYPD. There is a temporary closure to traffic on the way into and through the Lincoln Tunnel to allow all elements to pass through. They must then travel about 45 blocks through some of Midtown Manhattan's busiest streets to get to their destination.

During the overnight hours Macy's AP must prepare access routes for guests who have tickets to the grandstands. They must also maintain a secure perimeter from 67th Street to 86th Street to keep unauthorized personnel out of the staging areas. At the same time a separate AP operation seals off 34th Street outside the Herald Square store to allow construction of the grandstands.

Thanksgiving morning presents its own set of challenges.
● Macy's grandstands uptown and downtown allow over 17,000 ticketed guests to view the parade from some of the best viewing locations along the route. Macy's AP partners with the Stapleton Security and their Air Scenting K-9 dogs to screen all guests prior to reaching the stands.
● Thousands of volunteers who march in the parade must be brought to secure locations to be costumed and then brought to the start line at Central Park West.
● A separate operation for the 350 children who ride the floats must be staffed and managed by the AP team.
● A 'frozen zone' from 34th Street to 39th Street and from Broadway to 8th Avenue must be created and maintained to facilitate the dismantling of floats and deflation of the balloons.
● All celebrities who ride the floats must be escorted at all times during the parade.
After months of preparation and planning it is finally time for a parade! Over 50 Macy Asset Protection executives team up with the FBI's JTTF, FDNY's Hazmat and Rescue units and thousands of New York's finest which include ESU/Counter Terrorism units to ensure that the parade goes according to plan without incident and that Santa arrives at Herald Square promptly at 12 noon.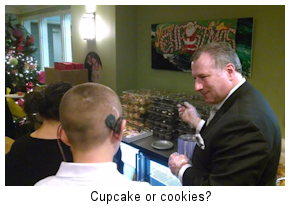 In addition to the parade in NYC Sechuk and his team are also involved with the planning and safeguards at Macy's events nationwide during Thanksgiving week. These include; 2 additional parades, 5 tree lightings and 6 window unveilings.

Sechuk also takes the opportunity to 'Give Back' during the month of December. He organizes Macy's support to the Chicago Police Foundation's 'Operation Santa'. On the last weekend before Christmas CPD / USSS and other law enforcement organizations visit the homes of injured and fallen Chicago Police Officers. Their children are given gifts from Santa who personally delivers each one.

In New York City he has been a fixture at the Ronald McDonald House Christmas Party. This was originally started by the NYPD 19th Precinct. Macy's provides the one and only 'real' Santa and Sechuk serves cookies and cupcakes to the children. He also accompanies Santa to the 9th Precinct's Christmas Party. This is held in a school yard across from the precinct house. Local residents begin lining up as early as 6:00 am to meet Santa and get a special gift.

Once all of these holiday activities have concluded it is time to plan for the year ahead.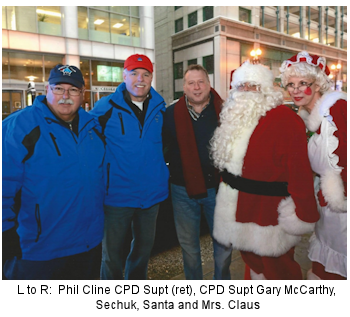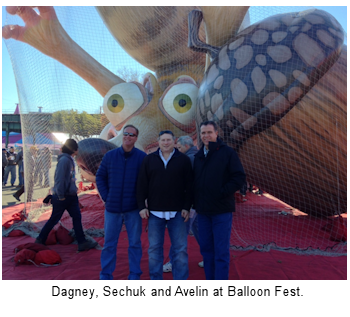 Thank you to Larry Sechuk, VP Asset Protection, Special Operations and Governmental Affairs, Macy's, for submitting the article and pictures above!