RC Willey saves millions, reduces shrink 170% below industry average by adding Axis network cameras to its inventory tracking system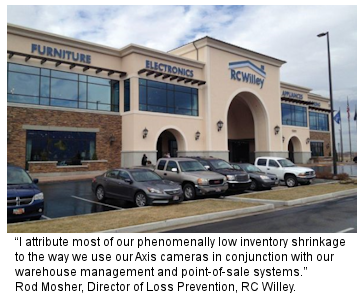 Mission
In order to fulfil its promise of same or next day delivery, home furnishings retailer, RC Willey, manages $500 million of inventory in warehouses and stores throughout the Western US. With millions of dollars of product in constant motion, tracking inventory discrepancies and investigating shrink was a challenge without video support. The company installed analog cameras to document the inventory flow, but when that system reached the end of its life, RC Willey began searching for a high resolution IP video surveillance system that could deliver better video with greater forensic value.
Solution
After lengthy on-site testing of 15 IP camera vendors, RC Willey selected Axis network cameras to track inventory in transit from its distribution centers, retail stores and delivery trucks. West Valley City, UT-based systems integrator and Axis partner, Alphacorp, was selected to undertake the installations. Advanced imaging features such as Wide Dynamic Range-Dynamic Capture provide the company with sharp, identifiable details under widely diverse lighting conditions - from vast warehouse racks to open dock bays, retail stockrooms and will-call pick-up centers. RC Willey stores the video locally at each site where it can be accessed remotely by Loss Prevention staff and other authorized personnel through a Genetec video management system.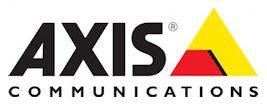 Result
Since the Axis cameras were installed, inventory shrink has dropped significantly to 0.01 percent, a full 170 percent below the home furnishings industry average. The cameras have helped the company pinpoint the root causes of inventory discrepancies and take steps to correct their procedures. The cameras also help the company improve warehouse management best practices to prevent future inventory from going astray.
Read the full story here
.