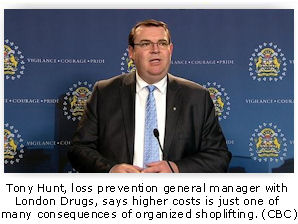 Calgary police warn citizens of organized retail crime risks - people "steal up to $10,000 to $15,000 a day, six or seven days a week"
Calgary police and retail partners have teamed up to warn citizens about the consequences of buying stolen merchandise. Organized retail crime is the theft of consumer goods for the purpose of illegally selling the merchandise for cash.

Constable Andrew Critchley said it's a growing problem in Calgary and the country. It costs Canadian retailers an estimated $4.6 billion a year and goods are usually taken through systematic shoplifting, sold online or on the black market. Along with their retail partners, London Drugs, Loblaws, TJX Canada and Mark's, as well as Crime Stoppers and RetailCOP, CPS has launched a radio and transit campaign to address the issue.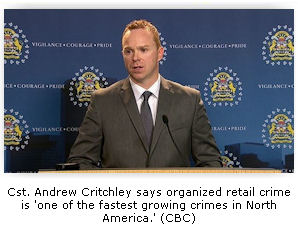 We have identified people that can steal up to $10,000 to $15,000 a day, six or seven days a week."
The general manager of loss prevention with London Drugs says higher prices are only one consequence. "It's not just a matter of dollars though," Tony Hunt said.

"Organized retail theft impacts the safety and security of our employees and of the public. Often incidents involve some type of threat or violence to staff. The stolen merchandise these criminals steal and traffic is often stored in poor conditions and when resold can pose a health risk to unsuspecting consumers," he said.

"The message we are hoping to get out is that Calgarians can help prevent organize retail crime by recognizing and refusing to buy stolen retail goods, and by reporting shoplifting or stolen goods they find for sale," he said. Critchely said organized retail crime is often used to fund more serious criminal activities like purchasing drugs or weapons. metronews.ca cbc.ca

Loss Prevention Jobs Booming in Canada - Talent Shortage?
Over the last five weeks there's been over 150 Loss Prevention positions in retail posted in LinkedIn. Now while most are single unit and hourly positions it does show a strong spike in demand and possibly a weak supply, especially with posting them on LinkedIn which is considered by most to be executive driven. linkedin.com

Winnipeg, Manitoba, Canada - New Gift Card Rules
The province is getting rid of fees malls could charge if the card wasn't used for a year. New legislation bans expiry dates on gift cards unless the card is for a specific item or is given away for free. cjob.com

Saks Fifth Avenue OFF 5TH Announces Entry into British Columbia and Manitoba; New Locations in Quebec
Saks Fifth Avenue OFF 5TH and Ivanhoé Cambridge announced today an agreement to bring four new Saks OFF 5TH locations to Canada. The stores, which will be the first to introduce the Saks OFF 5TH brand to their respective markets, will open in four Ivanhoé Cambridge shopping centres: Tsawwassen Mills, Outlet Collection Winnipeg, Place Ste-Foy and Montreal Eaton Centre. businesswire.com

Laura's Shoppe's reaches agreement with creditors to continue operations
The Montreal-based owner of more than 140 women's clothing stores, under the various Laura banners and Melanie Lyne, filed for creditor protection on July 31 and later shuttered 15 stores in a cost-cutting measure. financialpost.com

CTA Comments on Growing Cargo Crime Problem in CTV three-part series - Canada's $5 Billion Cargo Theft Problem
Echoing the sentiments of the Canadian trucking industry, CTV's W5 recently aired a three-part special report on cargo crime and how the growing problem is affecting carriers and consumers alike.

W5 featured CTA President David Bradley, who said cargo theft is one of the most lucrative criminal activities in Canada. It rarely makes headlines, yet it's costing consumers and the economy an estimated $5 billion a year.

"A decade or so ago, it was probably a more opportunistic crime," Bradley told W5. "But what I think has occurred is that organized crime syndicates have seen that it's relatively low risk, high reward, and there seems to be a market for just about anything somewhere in the world."

Once thieves get their hands on a load, selling it is easy. Organized crime groups know who is in the market for a particular product and often have buyers lined up, or the goods are sold off piecemeal to corner stores and flea markets. Some buyers have no idea they're paying for a stolen product while many others don't care, police sources told the program. See the full three-part series here cantruck.ca

Cargo thefts have doubled from last year: IBC -
Christmas is prime time for cargo theft
In 2014, the IBC saw 200 reported thefts. This year, there are already more than 400, which is primarily just in southern Ontario. And those figures only include reported thefts. Some transportation companies, the IBC's national director of investigative services Garry Robertson told CTV, will absorb the losses to avoid reputation damage and increased premiums. The Ontario Trucking Association estimates thieves are stealing $5 billion worth of cargo each year, up from $1 billion a decade ago. citopbroker.com

Toronto police display $12-million in counterfeit goods seized in Project Pace
Toronto police, in partnership with other law enforcement agencies and private partners, have seized $12 million in counterfeit goods over the last 18 months. Project Pace (Partners Against Counterfeit Everywhere) II, an 18-month investigation into people and groups selling fake or so-called pirated products, involved a number of counterfeit goods retailers from across the GTA as well as Montreal. Several of the seized items were on display during a Tuesday, Dec. 1 press conference at police headquarters. insidetoronto.com


LCBO trying locks on some liquor bottles
The LCBO has started putting locked devices on their booze in a small pilot project at the flagship Queens Quay store. The locks won't trip the security alarm at the exit in the event of theft, but the contraption makes it impossible to open up the alcohol in any event. The LCBO says that like other retailers it "works hard to minimize and reduce product shortage rates resulting from theft." "It's something we're testing," said LCBO spokesperson Christine Bujold. thestar.com

Retail Fast Facts: November 2015

Highlights:
● Total monthly retail sales changed by 2.5 per cent over the comparable month last year.
● Total sales excluding food, automotive and gasoline changed by 4.7 per cent over the comparable month last year. Read more

Ikea's 1st pickup store opens in London, ON. - with four more coming

Couche-Tard acquires Topaz, Ireland's largest convenience and fuel retailer with 464 stations



Three arrested after attempted massive tractor-trailer cheese
heist in Vaughan last Wed.
Police followed the truck using an installed GPS system and a canine unit was brought in to track down the suspects. There might've been between 30,000 and 36,000 pounds of cheese in the truck," said Const. Andy Pattenden. "The truck was fully loaded." thestar.com

Oshawa, CN: Store owner, son charged with stealing $50K in snow tires
A tire store owner and her son have been charged after snow tires valued at approximately $50,000 were reported stolen from Oshawa-area car dealerships. Durham Regional Police said a theft was reported on Aug. 5, at a Ford dealership in Port Perry. Two or three people had used bolt cutters to open a storage container. It was reported that more than $15,000 worth of tires and rims were stolen. The suspects and their vehicle were captured on video surveillance. As officers investigated, they connected the theft to two others in the Durham region. A similar theft occurred at a Toyota dealership in Coburg on July 30, when snow tires and rims worth $18,000 were stolen. Less than a week later, more than $15,000 worth of snow tires and rims were stolen from a Ford dealership in Stouffville, police said. It is alleged that the stolen goods were then taken to a tire store on Ritson Road in Oshawa to be sold. As a result of the investigation, 43-year-old Sheila Stephens and 24-year-old Tyler Stephens have been arrested. Both were charged with three counts of break and enter and three counts of possession of property obtained by crime. ctvnews.ca

Vancouver, BC: Mounties caution parents, Legomaniacs about buying stolen Legos online
As the holiday season approaches, Mounties are cautioning parents and Legomaniacs alike about buying stolen Lego online. The warning follows the arrest of two men police allege stole a number of Lego boxes worth thousands of dollars from a retail store in Squamish. On Nov. 24, members of the Squamish RCMP responded to a reported theft in progress at the store. Police say two men allegedly took a number of Lego boxes, loaded them into a cart and left in a vehicle. Police conducted patrols in the area and stopped the suspect vehicle on Highway 99 south of Finch Drive. Both the driver and passenger were arrested for theft and a number of Lego boxes were seized from the vehicle. The investigation determined the men were allegedly involved in a previous theft two weeks before at the same business. vancouversun.com


Calgary: Holiday warning: gift cards hot targets for thieves
Gift cards may be plastic but these days they're just like cash or credit cards and thieves have figured that out. Gift card theft and fraud is growing and consumers should take extra precautions. First of all, keep the receipt that comes with the card. It contains the card number and RCMP say you can often get a replacement if it's lost or stolen. Retailers can track their gift cards or cancel them. Now-a-days a lot of them have a database where they can keep these card numbers and assist you if you do lose your gift card and not just when it's stolen," said Constable Matthew Gervais with Airdrie RCMP. globalnews.ca

Barrie, ON: Man charged with theft of electronics and toys from Barrie Walmart A 21-year-old Barrie man is facing theft charges after police say he was spotted removing the security tags from items at Walmart. City police were called to the Bayfield Street store Wednesday around 9 p.m. after getting a report store security saying a man removed the tags form several items in the electronics department. Police say the man was spotted taking a bag from the sporting goods department and placing the electronics in it, along with several items from the toy department. He left the store without paying, but was stopped outside by store security. An investigation revealed he was wanted on an outstanding warrant for a previous theft in November. thebarrieexaminer.com