Turning Point Justice Hires Renowned
Loss Prevention Expert Paul Jones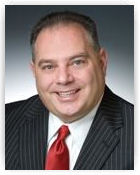 SALT LAKE CITY, UT (Dec 4, 2015) - Turning Point Justice (TPJ) has announced the hiring of Paul Jones as their Vice President of Retail Strategy. Jones, former Global Director of Retail Partnerships for eBay Inc., is widely respected in the loss prevention community having received numerous awards from Loss Prevention Magazine for leveraging technology and leadership. He possesses extensive expertise in retail operations with proven success in loss prevention and cost containment. According to the CEO of TPJ, Lohra Miller, "Paul astutely recognizes the evolution of loss prevention and wants to be part of the team helping to bring about these changes. He's an amazing addition to our company. His extensive industry experience and unique talents will undoubtedly help fuel Turning Point Justice's growth and success for years to come."

Turning Point Justice aids retailers and communities in efforts to thwart shoplifting. Through its Cloud Justice incident processing platform and the Crime Accountability Program (CAP) for Shoplifting, offered in partnership with the National Association for Shoplifting Prevention (NASP), they are able to quickly identify first time offenders and resolve the incident without the need for law enforcement response. This reserves valuable criminal justice resources for more serious offenses, including organized retail crime.

Director of NASP, Caroline Kochman, says, "Paul Jones is known for his integrity and his ability to achieve significant results. TPJ is gaining an impressive leader to add to their excellent team of professionals."

Valued for his visionary leadership skills and practical implementation strategies, Jones has been featured in media including: Loss Prevention Magazine, USA Today, The New York Times, and Harvard Business Review. With over 25 years experience in loss prevention with major retailers, Paul will be an invaluable asset to TPJ.



About TPJ
Turning Point Justice (TPJ) is a rapidly growing technology company that assists victims of crime, communities and law enforcement agencies through cloud-based software to improve accountability for offenders and outcomes for victims. Designed by criminal justice professionals, TPJ Cloud Justice solutions ensure integrity and compliance from apprehension to offender accountability and community support. Turning Point Justice serves the retail industry in partnership with the National Association of Shoplifting Prevention through the Crime Accountability Program, which saves time and budget for both private and public partners, ensures consistent restitution and legal compliance for retailers, and provides first-time shoplifters with education that enables offenders to avoid a criminal record and remain positive members of their communities.