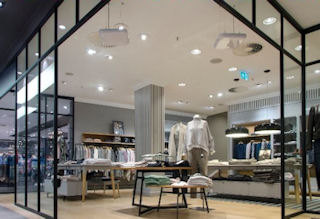 Nedap, a global leader in loss prevention and stock management technology for the retail sector, today launched the next generation !D Top: a RAIN RFID* overhead reader for Electronic Article Surveillance (EAS). This ceiling-mounted RFID reader takes up no selling space in the store, offers reliable detection and prevents false alarms with state-of-the-art tag filtering and direction detection.

Out-of-the-box RFID solution
Even if a retailer is not implementing RFID yet, store staff can simply attach pre-programmed RFID hard tags to the merchandise and use the !D Top for EAS purposes without any software integration at all. The out-of-the-box character makes it a perfect first step with RFID, because the !D Top can easily be integrated into any total RFID solution for in-store merchandise tracking in the future.

No loss of selling space
As no floor space is required, the !D Top is a very suitable EAS solution for stores with limited space in the entrance area, because it keeps the store entrance clean and open. The overhead readers blend seamlessly into the store design and filter out non-moving tags in the direct environment of the reader. This makes it possible to place tagged merchandise in the premium selling space near the store entrance.

Tag filtering and direction detection
The !D Top is equipped with a sophisticated antenna array that dynamically creates a multitude of independent beams in different directions. With this beam steering functionality, the smart integrated reader determines whether a product is really moving or if it is just a stationary tag. The functionality also detects in which direction each RFID label is moving, which makes it possible to reliably monitor if a person carrying a garment is actually leaving the store or just passing underneath the !D Top.

Maximum performance with compact design
With a size of 15" by 15" (37 cm x 37 cm), the !D Top is an extremely small and lightweight integrated RFID reader that can be fitted to the ceiling using a standard VESA mount, keeping the entrance of the store completely open. The !D Top can be used stand-alone as RFID-based EAS system or as an RFID upgrade to any existing traditional EAS system.

* RAIN RFID is a wireless technology that connects billions of everyday items to the internet, enabling businesses and consumers to identify, locate and authenticate items. As a member, Nedap promotes the adoption of RAIN RFID technology solutions in the fashion retail industry together with industry organizations, technology partners and customers.



About Nedap
Nedap is a manufacturer of intelligent technological solutions for relevant themes. Sufficient food for a growing population, clean drinking water throughout the world and smart networks for sustainable energy are just a couple of examples of themes Nedap is working on. It has a continual focus on technology that matters. Nedap was established in 1929, has been listed on the stock exchange since 1947 and, with more than 720 employees, Nedap is active around the world. Nedap helps global retailers permanently prevent losses, optimize stock levels and simplify the multi-store retail management.