Kroger ORC teamed with Los Angeles area Law Enforcement
to bring down a Giant
In February 2015, based on information from multiple confidential informants, Kroger ORC team in their Ralph's Division (Los Angeles) began investigating an interstate fencing operation involving two suspects in Los Angeles that were buying large amounts of stolen product from multiple boosters in the Los Angeles area. The fences were transporting the stolen product from Los Angeles to Las Vegas, Nevada, for re-sale. Kroger ORC team was partnered with the Torrance Police Department, California. The Torrance area had multiple retailers that had been victimized by various boosters who were selling the product to these fences. Subsequent to conducting numerous reverse buys with the fences, on May 21, 2015, Torrance detectives, in conjunction with the Kroger ORC team, executed search warrants at four separate locations in the Los Angeles area which lead to the seizure of approximately $300,000 in stolen product from 13 different retailers. Approximately $200,000 in property belonged to Kroger's Ralph's Division. Now that the ORC investigation has been adjudicated, approximately $100,000 in recovered stolen property that has been identified belonging to other retailers will be able to be returned to those retailers. The attached photo depicts the recovery property, the Torrance detectives and Kroger ORC team. This was an excellent example of the retail/law enforcement partnership and what can be accomplished working together to combat ORC. Thank you Denny Dansak, Sr. Corporate Manager, ORC, The Kroger Company for this ORC submission!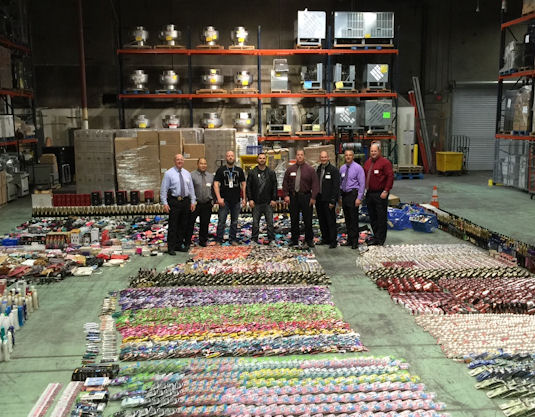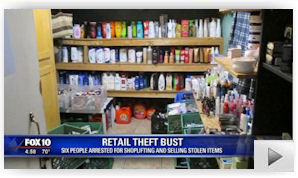 Chandler, AZ: Chandler Police bust a $100,000 Organized Retail Theft Ring
Chandler Police busted a Retail Theft ring in Phoenix and say shoplifters made off with a huge supply of groceries, health and beauty items -- stealing from stores in Chandler and selling them on the west side of Phoenix. Six people were arrested in this case. Four were big time alleged shoplifters a few months ago, and two were accused of selling the stolen goods out of the home on Wednesday. Police raided the home near 43rd Avenue and Osborn. The suspects allegedly turned their house into a store, filled with stolen goods stacked on shelves just like in the supermarket. Authorities brought out box after box. All day, observers noticed Axe body spray, Irish Spring soap and Old Spice Swagger, baby formula, cream for fighting wrinkles, deodorant spray and lots more. A neighbor down the block though something might be up. Police say a shoplifting ring ripped off Fry's in Chandler -- $80,000 worth of groceries, health and beauty items -- and ripped off Walgreens and Walmart stores too. Then the shoplifters drove it over to west Phoenix to sell. Police had to bring in a truck to haul it all away to save as evidence, but the next door neighbor isn't buying it. fox10phoenix.com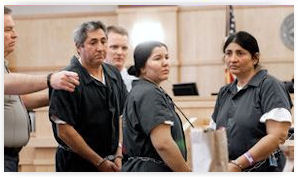 Logan, UT: Judge orders no bail
for suspected baby formula thieves
Three people suspected of stealing baby formula from local grocery stores will remain in jail without bail, after a judge ruled the man and two women have no ties to the community. The ruling in 1st District Court happened while Selford Velcu, Iolandaa Velcu and Elisabeta Zatreanu appeared Wednesday afternoon for a bail hearing with their attorney, Kevin Vander Werff. He told the court his clients deserved to have a bail amount set, noting that they had no prior criminal convictions and that Zatreanu was struggling in jail, being away from her husband and family in California. State attorney Jacob Gordon opposed the request arguing the three suspects have no ties to the community and are in the country illegally. As part of his argument, Gordon had the lead investigator, Logan City Police Lt. Rod Peterson, take the witness stand to testify. Peterson told the court that investigators believe the three suspects are tied to seven baby formula theft cases in Cache County and are suspected of similar thefts along the Wasatch Front and around Idaho Falls, Idaho. The three suspects were arrested by police during a traffic stop December 28, when officers noticed a white van that matched a vehicle seen driving after surveillance cameras caught them stealing formula from Lee's Marketplace earlier in the month. cachevalleydaily.com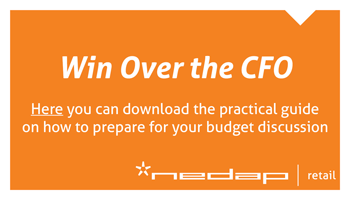 Orchard Park, NY: Three men charged with thefts from Target and Kohl's;
over $2,500 in merchandise recovered
Orchard Park police arrested three men from Dunkirk on Jan. 12, after receiving a report of men actively stealing clothes from the Kohl's in Quaker Crossing plaza, police said. Upon patrol arrival, Christopher Izzo, 32, was apprehended while running from Kohl's to a van located near the adjacent Dick's Sporting Goods, police said. According to the police report, Izzo was caught wearing some of the stolen merchandise, and there also was more than $1,200 worth of stolen electronics from Target in the van, which was occupied by Brian Lidlow, 34, and Mark Waclawski, 27. Police investigation led to the arrests of all three individuals for the possession and/or theft of over $1,300 in various clothing items from Kohl's. orchardparkbee.com