RLPSA's 37th Annual Conference:
"Transforming Our Industry, Together"

Featuring keynote speaker Blaine Hurst, EVP, Chief Technology and Transformation Officer for Panera Bread, as well as TEDx speaker and author Chalmers Brothers among others

ATLANTA, January 28, 2016 - The Restaurant Loss Prevention & Security Association (RLPSA) debuts its lineup for the 37th Annual Conference at the La Cantera Hill Country Resort in San Antonio, Texas, July 24 - 27, 2016.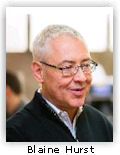 This year's Annual Conference, "Transforming Our Industry, Together", will feature keynote speaker, Blaine E. Hurst, the Executive Vice President, Chief Transformation and Growth Officer for Panera Bread, LLC. Hurst oversees Panera Bread's technology, digital strategy and e-commerce activities, as well as "Panera to You," the company's key growth initiatives of delivery and catering.

"Our conference content is all about adding value to our attendees' professional and personal lives," said Amber Bradley, executive director of RLPSA. "We're implementing several new initiatives to bring solution providers and attendees together in a joint effort to solve loss prevention, security, and safety challenges in the food and restaurant industries."

Register today for the only conference focused on the food and restaurant industries by clicking here.

More content to transform your thoughts, skills, and talents:

● Featuring former TEDx speaker Chalmers Brothers presenting, "Leadership, Conversations and Results." Chalmers Brothers is an executive coach, published author and accomplished speaker across the globe.
● "How are you measuring your organizational value?" A panel of food-service professionals moderated by Anne Sullivan, Vice President of Asset Protection & Safety, CKE Restaurants Holdings, LLC.
● "How to Speak as Well as you Think," by John Vautier, President, Vautier Communications.
● "Perfecting the Art of Telephone Interviewing," by Wayne Hoover, CFI, Senior Partner & Vice President-CFI Programming, Wicklander-Zulawski & Associates, Inc.
● "Mastering Home Delivery Best Practices," by Van Carney, National Director of Safety & Loss Prevention, Domino's Pizza, LLC.

RLPSA is a member-run organization that is focused on loss prevention and security in the food and restaurant industries. The RLPSA's mission is to educate and inform its members on the topics that improve and enhance the safety of their employees, customers and assets while being an advocate for the restaurant loss prevention industry.

Members of the RLPSA range from all areas of the food and restaurant industry including Quick Service (QSR), Quick Casual, and Full Service Dining segments. Memberships consist not only of Loss Prevention and Security practitioners, but of other professionals who have responsibilities for loss prevention, security, risk management, asset protection and safety.

For more membership information, visit: www.rlpsa.com