WHERE TRUST IS BUILT
For more than a century, Detex has earned the trust of millions of property owners to secure and protect their people and property. From our newest innovations in life safety and security door hardware, integrated door security systems, and guard tour verification technologies to our original Watchman's clocks, Detex, a USA company, designs, manufactures, markets and ships our products from New Braunfels, TX and is recognized as a best-in-class life safety, security and security assurance manufacturer, worldwide.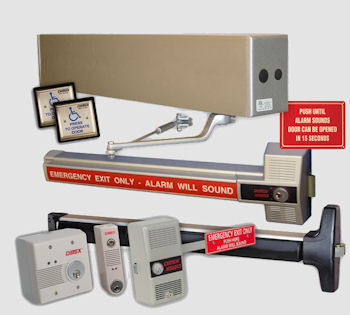 LIFE SAFETY & SECURITY DOOR HARDWARE
Detex offers a wide range of life safety and security door hardware products that are guaranteed to be the most durable, easiest to install, innovative, technologically advanced and architecturally beautiful products available on the market today. From multipoint locks, to delayed egress to economical locks and alarms, Detex has been helping retailers and restaurants for decades. Detex manufacturers' a wide variety of security hardware designed to prevent shoplifters from using emergency exits as escape routes, thwart break-ins and stop dishonest employee's from sneaking out a locked door. http://www.detex.com/life-safety-security.aspx

INTEGRATED DOOR SECURITY SYSTEMS
Detex provides everything you need for a customized, integrated door security system. Easy to specify, easy to order, easy to use, easy to install, and easy to maintain, Detex EasyKits are field-proven, code-compliant and will meet all of your requirements for worry-free, safe and secure control of building entry and egress. Detex has built specialized weatherized delayed egress systems for outdoor garden centers, and systems that automatically lock or unlock doors with the push of a button. You might only need to add a strobe light to an alarm, or prevent a propped door, but regardless of your challenge, give us a call, we can provide several answers. http://www.detex.com/integrated-door-security.aspx

SAFETY, SECURITY AND RISK MANAGEMENT
For more than a century, Detex has been the world leader in Guard Tour Verification products and systems. Setting the standard with the widely used, reliable, and rugged mechanical watchclocks and continuing with the innovative GCS ProxiPen electronic guard tour verification systems, Detex is recognized worldwide as the leading solution provider. http://www.detex.com/productlist.aspx?id=302

SERVICE AND INSTALLATION
Detex provides toll-free phone support, Monday through Friday, 8AM until 5PM Central Time. Technical support is available to anyone with questions or issues, just call 1-800-729-3839, and press 2 to speak with a technician. Detex products can be purchased from a variety of distributors, dealers, installers and integrators. Contact Detex or one of our many representatives to discuss your challenges and applications. A complete list can be found at http://www.detex.com/sales.aspx. Sign up for our monthly email and keep up with the latest in security door hardware. http://www.detex.com/Subscribe.aspx?id=3612

Detex has the product that will fit your needs and budget.

Contact:
Ken Kuehler
Detex Corporation
830-629-2900 Ext. 4308
kk@detex.com