Participate in the LPRC's ORC Survey
Help Identify Retail's High-Theft Items

The LPRC's Organized Retail Crime and Product Protection Working Groups are collaborating together this year on a common research initiative: ORC High-Theft Items, otherwise known as "Hot Products List."

The LPRC would love to have several different retailers weigh in and help provide insights into this very important topic in the industry. What are your organizations' top high-theft items? The names and associations collected on this survey will be kept confidential; we also give you the option to include your organization's name.

The purpose of this survey is to provide retailers with knowledge of multi-industry common ORC/hot-product high-theft trends and to better prepare retailers for potential high-theft threats in any given year. The information you provide will be purely for research purposes. The information will be able to be accessed through the LPRC to interested members. The LPRC's goal is to have a list of these high-theft items representative across different industries.

Please help us in this research initiative by taking the survey below:
https://www.surveymonkey.com/r/High_Theft_ORC

For more information, please contact Brittany at brittany@lpresearch.org.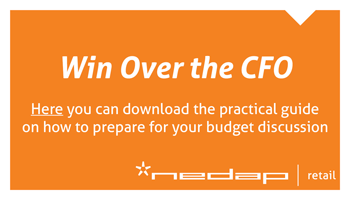 Traveling Florida CC Fraud Duo Busted in Marlborough, Solomon Pond Mall, outside Boston
Police say two Florida men were caught using fake credit cards they bought from a Russian website to make purchases in Massachusetts. The men were arrested Thursday evening after using the cards at a mall in Marlborough, about 30 miles west of Boston. Police say Barrios told them he'd discovered a Russian website that sold counterfeit credit cards and bought 40 cards for $200. Police say the men flew to Massachusetts to make purchases and then exchange the items for gift cards. salemnews.com

New Orleans, LA: Man Faces 20 Years to Life in Prison on Charges He Stole Candy
A man is facing 20 years to life in prison after being accused of stealing $31 worth of candy bars from a New Orleans Dollar General store in December. Last Thursday, 34-year-old Jacobia Grimes appeared in court for an arraignment and pleaded not guilty to the charges. Judge Franz Zibilich mused out loud, "Isn't this a little over the top?," regarding the "multiple bill" threat that will leave little to the discretion of a judge. Orleans Parish DA Leon Cannizzaro's office decided to charge Grimes under a statute that makes the alleged candy theft a felony punishable by up to two years in prison. The statute is meant for people who have been convicted of "theft of goods" at least twice before. Grimes has five prior theft convictions, which categorizes him as a "quad" offender under the state's habitual-offender law, thus making him eligible for 20 years to life behind bars if convicted. "It's not even funny," the judge said. "Twenty years to life for a Snickers bar, or two or three or four." theroot.com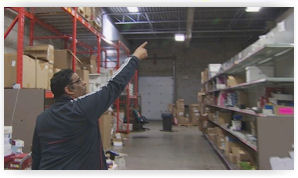 Brampton, ON, CN: Cellphone thieves cut through roof of electronics store; $200,000 of cellphones stolen overnight
Burglars made not one, not two but at least four attempts to cut through the roof of a Brampton electronics store overnight, before they found a good spot, got in, and made off with electronics worth more than $200,000. The thieves made off with at least 1,500 cellphones, most of them used iPhone 6s and Samsung S6s. Security alarms and monitors were also smashed and stolen. "It's upsetting me because we're not safe," said A1 Wireless owner Zahid Majeed, indicating one of the rectangular holes in the ceiling of his storeroom, through which sunshine streamed in. cbc.ca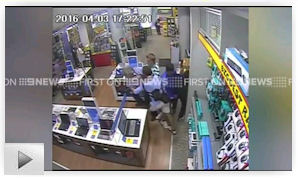 UK: CCTV footage sees gang of men kick, punch and spit on a JB HI-FI security guard
Five men believed to be protecting their shoplifting friend have launched a violent attack on a number of JB HI-FI staff and a grey-haired security guard after he tried to stop a suspected thief. Police are searching for a group of up to five men, believed to be between the age of 18 and 25, after they became involved in a violent altercation with staff at JB HI-FI at Chadstone Shopping Centre, in a south-east suburb of Melbourne, at around 5.30pm on Sunday. The group were captured on security footage kicking, punching and spitting at a security guard who stopped one of the men after he allegedly put something in his bag as he tried to exit the store. dailymail.co.uk

Muskegon County, MI: Jacqueline Grace Jewett sentenced to 14 months to 10 years Michigan Department of Corrections for Organized Retail Crime, fourth-time habitual offender
Carl Edward Wells, 49, of Muskegon, one year jail for probation violation on 2014 convictions of organized retail crime and marijuana possession, habitual offender third. Tamara Delynn Yeargan, 46, of Ludington, 60 days jail, 18 months probation for attempted organized retail crime, third-time habitual offender. mlive.com