Volusia County, FL: 'Operation Fitbit' brings down retail theft ring: $75,000 in merchandise stolen
A retail theft ring responsible for stealing and reselling tens of thousands of dollars' worth of merchandise in Volusia and Seminole counties' stores was dismantled Tuesday after a multi-agency investigation, authorities said. The investigation began after a tip from an angry girlfriend in March and resulted in four arrests Tuesday and the recovery of boxes filled with suspected stolen goods. Officials arrested Constantine "Mike" Joseph, 53, and Sherry Laizer, 48, on accusations that they sold about $75,000 in stolen merchandise between January and March.

Laurie Ashley, Joseph's girlfriend, called deputies and said she was upset that he'd taken advantage of her and she wanted to talk about his illegal racket. She said he enlisted boosters to steal items from retail stores, bought the items and resold them in his eBay store. Ashley said the stolen items included Fitbit fitness trackers, perfume and cologne, printer ink cartridges, electric toothbrushes, thumb drives, over-the-counter medications and various health and beauty products.


She said Matthew Boals, 36, accused of being a booster, was confronted by security while trying to steal Fitbits from the Volusia Mall, but had his coat pulled off while he ran away. Daytona Beach police said his phone was found in the coat. Investigators said Ashley reconciled with Joseph and stopped talking to authorities. Boals confessed to stealing and said got $30 per stolen Fitbit from Laizer, who was working with Joseph to sell them online, according to detectives. Boals said he had been participating in the theft ring for two years. Volusia County deputies determined that the Volusia Mall JCPenney store lost $45,000 to $50,000 worth of perfume and cologne over the last year. Investigators contacted Joseph's probation officer, who said he noticed a cabinet of packaged printer ink cartridges when he visited Joseph's home. wftv.com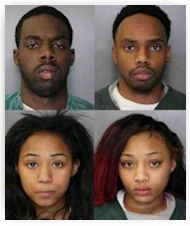 Dewitt, N.Y. PD busts NYC Fraud Ring using cloned cards buying gift cards in Central, N.Y.
Four New York City area residents were charged Saturday in DeWitt, police said. DeWitt police were called to the Tops Market, which is located at 620 Nottingham Road, at about 11:30 a.m. to respond to a forgery complaint.

The manager called 911 to report that two males attempted to buy gift cards using fraudulent or cloned credit cards, police said. The same subjects allegedly did it earlier in the morning at the same store, returned for second time, and then fled the store when questioned by employees, police said.

Further investigation revealed that these subjects were allegedly part of an organized fraud group from New York City that were staying at the Red Carpet Inn.

During the search, DeWitt investigators recovered a laptop with card making software, two encoding devices, an embossing machine, and dozens of blank cards and cloned cards that are all used to create counterfeit credit cards with stolen account numbers. syracuse.com

West Windsor, NJ: 4 charged in $175K credit card scam
Police have charged four New York and Pennsylvania residents with credit card fraud and identity theft for a gift card scam at the Target on Nassau Park Boulevard, police said. West Windsor detectives charged the following suspects: Ray K. Solomon, 25, of Brooklyn N.Y., Troy A. Mayers, 38 of Radford Pa., Devon Perkins, 36, from Brooklyn and Chanel S. Herron, 25, also from Brooklyn. They were each initially held on $75,000 full-cash bail on Friday, police said. Township detectives had been investigating the fraud ring for several months, police Detective Lt. Matthew Kemp said. Over $4,000 in cash and two vehicles were seized during the arrests, Kemp said. The group is charged with accumulating over $175,000 in fraudulently purchased Target gift cards that were purchased with counterfeit credit cards embedded with the identity of identify theft victims. Kemp said the credit card uses to buy the gift cards were not stolen from the car holder, but the person's information was somehow stolen and then put onto a blank plastic card. nj.com



Gloucester Twp, NJ: Suspects sought in $5,000 Gap Store Theft
Gloucester Township Police are searching for the persons who allegedly shoplifted $5,000 worth of merchandise from the Gap Store on January 14 and 31, 2016. Police say the man and woman pictured in the photo are suspected of entering the store on two separate occasions. According to police, the man removed a white bag from his satchel. Police say the man and woman allegedly went on to fill the bag with merchandise then quickly fled the store. 6abc.com


Nashville, TN: 8 Detained After Attempted Gun Store Burglary, High Speed Police chase
Eight people have been detained after an attempted gun store burglary in Lebanon turned into a cross-county pursuit that ended in north Nashville. Officials said an officer spotted suspicious individuals at the Lebanon Gun Shop on Hartman Drive around 3 a.m. Monday. From there, they took off on foot before fleeing in a stolen vehicle down Interstate 40. Around the same time, Lebanon Police received a call of an armed robbery. Authorities said the alleged victim turned out to be another person involved in the attempted burglary. Lebanon officers and troopers with the Tennessee Highway Patrol chased down the car along I-40. newschannel5.com

Queensbury, NY: UPS employee stole $5,000 worth of iPhones
A Queensbury man who worked at the UPS Customer Center on Big Boom Road pleaded guilty Wednesday to a felony charge for stealing more than $5,000 worth of cellphones while at work. Jason L. Cross, 41, of Chestnut Ridge Road, pleaded guilty to third-degree grand larceny, a felony, in connection with an arrest last September by the Warren County Sheriff's Office. He was arrested after police received a complaint about theft of six iPhones valued at $5,094, court records show. It was not specified from whom they were stolen. Cross had worked for the company for 22 years as of his Sept. 23 arrest. poststar.com

Woodinville, WA: Loss prevention stopped a female suspect after she left store with a loaded cart of unpaid-for Legos and assorted items
The woman threatened to use a Taser on the store employee if they detained her. The suspect ran away, leaving the cart and stolen items behind. She was last seen leaving the parking lot in a silver Volkswagen Passat. nwnews.com