8 nabbed after cops intercept multi-state credit card fraud rings
at Gloucester Premium Outlets
Gloucester Township Police were conducting proactive retail patrol on three separate incidents leading to the arrest of eight people and the recovery of a stolen handgun.

Authorities said they were able to interrupt two multi-state credit card rings and prevent thousands of dollars in retail theft and fraud following three separate investigations. Police were conducting surveillance at the Gloucester Premium Outlets April 26 as a result of ongoing retail theft.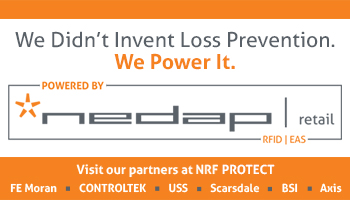 While investigating, police saw four males attempting to use multiple credit and gift cards to purchase high-end merchandise. The four men were later found in possession of more than $6,000 worth of merchandise. Detectives seized multiple stolen credit and gift cards, a laptop and encrypted USB drive that was used to load stolen credit card account numbers onto the cards.

Then, on Sunday, May 1, at 2:56 p.m., authorities responded to the Watch Station at the outlets for a report of three women shoplifting from the store. Two of the women were located outside of the store and during questioning, were found with roughly $2,500 in outlet merchandise and shoplifting tools. nj.com

Corpus Christi, TX: Woman caught with $900 in stolen merchandise
Monday, Cops arrested a woman who attempted to steal nearly $900 worth of merchandise from a department store on Saratoga Boulevard. When Officers arrived at the scene, they were told an employee saw the woman go into a dressing with several pieces of clothing. When the woman came out, the employee did not see her with any of the clothing she had gone into the dressing room with. As the woman attempted to walk out of the store without paying, the employee stopped her. Officers found over $876 worth of stolen clothing in a stroller the woman had, and found more stolen merchandise in her purse. Officers arrested the woman, Eilen Puentes-Villafana, for theft. kztv10.com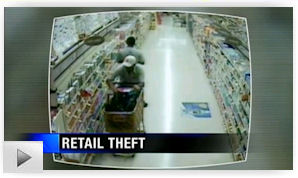 Pittsburgh, PA: "Organized Retail Crime;
More than just Shoplifting"
It looks like shoplifting, but it's a whole lot more. Police say organized retail theft is one of the fastest-growing crimes in the country. Target 11 Consumer Investigator Robin Taylor talked to local police and discovered stores aren't the only ones paying a price. The police chief in Center Township told me that they just busted a ring of thieves who were stealing DVD's and then reselling them. The ringleader is being prosecuted under a new state law that recognizes this type of crime as more than just shoplifting. wpxi.com

Columbus, OH: Ex-Con who spent 30 yrs in prison busted for stealing $700 of merchandise from Columbus Area Goodwill stores

Franklin, TN: Woman Sought In $700 Target Theft

Minden, LA: Police arrested two women after reportedly attempting to sneak a shopping cart full of merchandise out of Walmart without paying