Rocateq USA Appoints Gino Fabbricatore to Director of Human Resources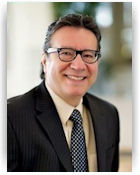 DANVILLE, CALIFORNIA (May 10, 2016) – Rocateq USA, provider of cart containment & business intelligence systems, today announced the appointment of Gino Fabbricatore to Director of Human Resources. He will have the primary responsibility for managing the hiring, training and development of company employees.

"Gino has been a key part of our growth, and we are thrilled to appoint him to this new position," said Adriaan Neele, Executive Vice President of Rocateq USA.

Mr. Fabbricatore joined the company in 2011 as a management consultant and has held various positions before his current appointment. Mr. Fabbricatore was previously a Vice President of Stores at Mervyn's and, most recently, a small business owner.

Mr. Fabbricatore, a native of Italy, received his International Commerce degree from the University of Naples. He resides in Alamo, California.



Rocateq USA is a leading international cart containment and business intelligence solution provider that is committed to providing retailer's quality technology & software that is flexible, economical, and contributes to smarter shrink control solutions that lead to profit enhancement.