The GRA and GRALPC Proudly Announce the First
GRAORCA Loss Prevention Scholarship!
At the 5th Annual GRAORCA Retail Crime Conference, members of the Georgia Retail Association Loss Prevention Council announced news of a brand new partnership with the Department of Sociology and Criminal Justice of Kennesaw State University located in Kennesaw, Georgia. As part of the mission of continuing education, the Georgia Retail Association Organized Retail Crime Alliance Scholarship will provide scholarships to students majoring in Criminal Justice who demonstrate an interest in the field of Loss Prevention, with a minimum GPA of 2.0. Senior status is preferred and each scholarship awarded is $1,000! The scholarship is intended to help offset the cost of the student's tuition while taking an internship course related to retail Loss Prevention.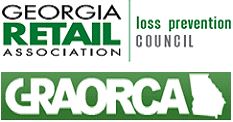 Over the course of the last few months, submitted scholarship applications were reviewed by a scholarship committee. Submissions included an essay focusing on each applicant's career aspirations when it comes to Criminal Justice and Loss Prevention. For the first round of scholarships, two Kennesaw State University students were selected to receive the inaugural scholarship - John Sitzes and Q'uran Tour'ie Williams. Both winners completed their internship courses in the Loss Prevention departments of Floor and Décor and Total Wine and More, respectively.

GRAORCA intends to offer another round of scholarships for the upcoming semester. Current KSU Criminal Justice students meeting the criteria who are interested in applying for the 2016 Fall Semester Scholarship should contact Kennesaw State's Department of Sociology and Criminal Justice at 470.578.6739 or by clicking HERE.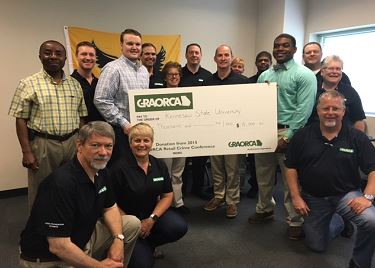 Pictured Above: Scholarship Winners John Sitzes and Q'uran Tour'ie Williams with members of the GRALPC and KSU Dept. of Sociology and Criminal Justice - Department Chair Dr. Sam Abaidoo and Asst. Professor of Criminal Justice Dr. Peter Fenton
Thank you Chad McManus for this submission and congratulations to the scholarship winners!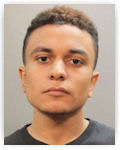 Manhasset, NY: Macy's Loss Prevention Associate Stole $69K Worth of Perfume
A Queens man was arrested Monday afternoon for stealing $69,000 worth of designer perfume while employed at a Manhasset department store last month, police say. According to authorities, Juan Adriano Infante, 21, stole the boxes of Chanel Fragrance at some point between May 13-15 while employed as a Loss Prevention associate for Macy's. patch.com


Coldwater, MI: Gander Mountain ORC thief sentenced to 18 months to 5 years
One of the suspects in the theft of a large amount of items from the Coldwater Gander Mountain store was sentenced on Monday in Branch County Circuit Court. 28-year-old Paul William Goetz-Hoke was ordered to serve between 18 months and five years after he entered guilty pleas to first degree retail fraud and organized retail crime. Goetz-Hoke was given credit for 76 days already served. He along with Kayla Kristine Wagoner were arrested following a Coldwater Police Department investigation into the taking of items from the store for possible reselling either through the mail or by electronic media. wtvbam.com

Tempe, AZ: Man responsible for $7,000 in Cell Phone store thefts arrested
A man already on probation for cell phone theft is arrested in relation to nine more cell phone store robberies. Court records show that from March 4 to May 20, the 26-year-old man, robbed nine cell phones stores in Tempe, Mesa Chandler and Phoenix, getting 13 phones worth nearly $7,000. He apparently liked Cricket stores hitting them five times, followed by two robberies of Metro PCS and single robberies at AT&T and Radio Shack. He is now facing nine counts of organized retail theft. abc15.com

Walton County, FL: Thief faces burglary, grand theft and dealing in stolen property charges after stealing sunglasses from former employer
According to the Walton County Sheriff's Office, someone stole 57 pair of Maui Jim sunglasses worth $14,000 from Aly's Beach back in May. Days after the burglary, authorities say Zorn sold seven pair of the sunglasses to a Pensacola pawn shop for $11 a pair, totaling $77. Authorities say that was a fraction of the retail value of $1,800. weartv.com

Box Elder, UT: Two women accused of stealing jeans,
trying to run over store clerk
Two Box Elder women are jailed on felony charges of robbery on allegations they stole $2,750 in jeans and tried to run over a store employee. Police responded to a report Saturday of a woman stealing 18 pairs of jeans from a store on the 3000 block of North Montana Avenue. While the women tried to flee the scene, they reportedly nearly struck a shop employee with a car. A witness to the incident followed the women, who were later apprehended by police. "Ahenakew admitted she knew the employee was there and she thought she was going to hit her with her car," the documents state. helenair.com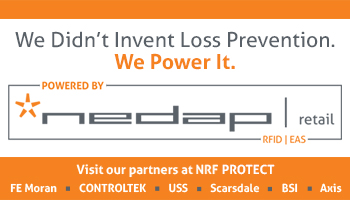 Berks County, PA: PA State Police arrest man stealing $1,000 of baby formula from Walmart; found with 2.2 grams of cocaine

West Whiteland, Target Loss Prevention Associate assaulted during $800 theft apprehension

Weatherford, TX: Mother & Daughter nabbed for $350 shoplifting at Home Depot; daughter has 5 priors

Detroit, MI: Warrant issued for suspect in $675 Kroger Theft; repeat offender

Avon, OH: Woman arrested at Walmart stealing $500 in baby formula