Des Moines, IA: Fraudster & Sexual Predator Sentenced to 70 Years after running bar code theft ring


On February 25th, 2015 Barnes & Noble stores located in Louisville, KY reported a suspected fraudulent barcode switch incident involving Lego Mindstorm product. A bookseller became suspicious when the Mindstorm, valued at $349.95 was scanned and registered as a Nindroid MechDragon item valued at $89.95. Closer inspection of the Mindstorm item revealed a barcode label was placed over the legitimate manufacturer's SKU and the attempted fraud was averted. The incidents were reported to loss prevention and a pattern of fraudulent barcode switches involving several states was uncovered by RLPD David Thompson.

Images of the suspects were placed on an external theft bulletin and on March 1, 2015 one of the subjects was apprehended by the Skokie, Illinois police department for attempting to execute a fraudulent barcode switch at the Barnes & Noble.

On March 25, 2015 Glenn Justus located and interviewed the female suspect and obtained a detailed admission of fraud since October of 2013, targeting Barnes & Noble, Wal-Mart, Toys-R-Us, Best Buy, K-mart, Home Depot and Lowes stores. She implicated Prucha as the ORC ring leader, often employing juvenile females to execute the fraud. The interview also produced that Prucha, a registered sex offender, was exploiting the juvenile female members sexually and had previous convictions for the barcode fraud in Florida.

The investigation was reviewed and accepted by SA Kevin Kohler of the FBI. Kohler and AUSA's Virginia Brunner and Kelly Mahoney successfully prosecuted Prucha for fraud, sexual exploitation of minors, child pornography, distribution of a controlled substance to the minors and witness tampering. The case received substantial support from ebay's Christian Hardman, Toy's R US Dennis Dixon and Wal-Mart's Adam Labanosky. On June 23rd, Prucha was sentenced in the Des Moines, IA Federal district court to 70 years. Read the full FBI press release here. Also, for more inside information on this case, here are the government's sentencing memo and FBI's original affidavit.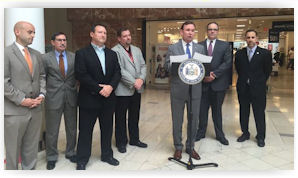 Staten Island, NY: NY State Assemblyman Michael Cusick thanked for his support of the Organized Retail Theft bill
State Assemblyman Michael Cusick announced Thursday that Governor Cuomo has signed his bill, designed to combat organized retail crime. "Organized retail theft has grown exponentially in the past decade," Cusick said at the Staten Island Mall. "My legislation gives the authorities the upper hand in prosecuting these crimes by allowing all charges to be heard in one venue." Several prominent retail and business leaders joined Cusick to praise the signing of the bill, including Michael Rosen of the Food Industry Alliance, who spoke about the dangers of retail thieves reselling food. silive.com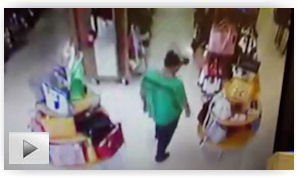 Brownsville, TX: Purse thief cutting away Security cable in Quick Grab & Run
Brownsville Police detectives are looking to identify a man who is seen committing a theft from a local department store. This is surveillance video from the store. The individual in the video, on three separate occasions, has allegedly gone inside a local store located on the 400 block of East Morrison. Investigators says he cuts the security wire on the purses and then runs out the store to make his getaway with several purses. rgvproud.com


Millburn, NJ: $8K Of Merchandise Stolen From Mall At Short Hills
The following thefts were reported by the Millburn Police Department.: Jimmy Choo, 3 handbags valued at $4, 520, Saks Fifth Avenue, $570 in shirts, Coach, $1,200 handbag, Bloomingdales, 5 clothing items totaling $1,622. patch.com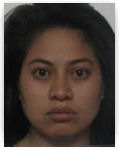 Guam: Woman accused in Kmart $1,600 theft
A 31-year-old woman was charged in court Thursday with allegedly attempting to steal more than $1,600 worth of merchandise from Kmart in Tamuning. A store employee stopped Shrue Sheryl Anton and a 16-year-old girl on Wednesday with the items. Anton and the 16-year-old were reportedly seen taking items from various sections of the store and putting them into shopping carts. Anton then reportedly placed the items in her cart into a large blue luggage. The 16-year-old put items from her cart into Kmart plastic bags she took from the duty-free area of the store, then exited the store. guampdn.com


Barboursville, WV: 3 men arrested after fleeing with merchandise from Kohl's; repeat offender with active warrants in Ohio and West Virginia