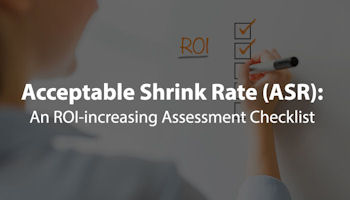 Boston, July 13, 2016 -
Nedap Retail-Americas released the
Acceptable Shrink Rate
(ASR) Assessment Checklist, which is designed by Nedap to assist Loss Prevention executives who choose to implement an efficient, ROI-increasing method for identifying high-shrink stores.
In the Calibration Group's most recent whitepaper entitled,
Winning with High Shrink: New Rules for an Old Game
, it was revealed that one of the best ways for Loss Prevention professionals to determine which stores should receive the majority of their focused attention and resources is the
Acceptable Shrink Rate
(ASR) method.
Patrick O'Leary, Vice President and General Manager at Nedap Retail, stated, "Our passion at Nedap Retail is helping retailers. This ASR checklist helps empower retailers to navigate the art of identifying which stores would receive the greatest benefit from their loss prevention resources. This helps loss prevention professionals with their continual efforts to deliver positive returns on investments."
To download the ASR Checklist, visit Nedap Retail's Resource page:
www.nedapretail-americas.com/loss-prevention-resources
About Nedap Retail
Nedap brings 40 years of global experience, market expertise and close cooperation with leading retailers. Everything we do is driven by our mission to make it simple for retailers to always have the right products available. To achieve this, we offer industry-leading solutions for our customers' diverse needs in loss prevention and stock management. For more information, visit our website:
www.nedapretail-americas.com/