STANLEY SECURITY ANNOUNCES STANLEY GUARD
Mobility Solution Delivers Security and Response Management
to Campuses and Workplaces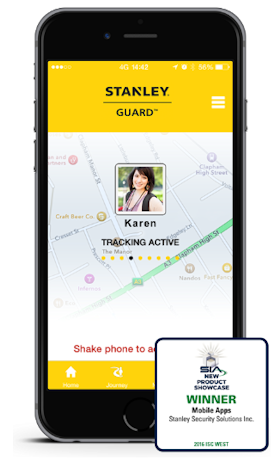 Indianapolis, IN - STANLEY Security, a leading global manufacturer and integrator of comprehensive security solutions for a wide range of industries, announces STANLEY Guard, a smartphone and cloud-based personal safety and security response suite. The STANLEY Guard Personal Safety app allows users - whether they are students, employees, or executives - to send alerts, including video and their GPS location, directly to their security command center for immediate response. The STANLEY Guard Security Response app is designed to coordinate incident responses and provide a means of task management for facilities and institutions that manage their own security. Finally, the STANLEY Guard Command Center platform provides businesses, schools, and other facilities an effective means to verify and dispatch their security resources and manage mass notifications.

The STANLEY Guard campus security mobility solution provides personal safety beginning with a user triggering an alert from their Personal Safety app. Once the alert is triggered, the user's smartphone immediately notifies the STANLEY Guard Command Center portal and begins to transmit the user's identity and location, as well as live audio and video that may be used as evidence of the incident. If the user chooses, he or she may then shake their smartphone, turning the device into a high-volume, strobe-light alarm.

As the Command Center portal receives the alert triggered from the user's smartphone in real-time, the authenticity and severity of the threat may be verified. In addition to receiving the user's real-time video and audio evidence, location and identity, the Command Center also sees a record of previous alerts, including comments from dispatchers and first responders. Once the Command Center verifies a threat, a police or security officer may be dispatched through the STANLEY Guard Security Response app. Further, the Command Center can choose which security officer to dispatch based on either their proximity to the incident or their unique qualifications and skill set. Read more here.
STANLEY Guard 101 Webinars For Retailers

The STANLEY Guard 101 webinar will discuss the elements of STANLEY Guard (Personal Safety, Security Response, and Command Center) and how they can be used to make your business safer. Plus, receive a live demo of the STANLEY Guard Suite of apps and cloud-based software in action!

Monday, Aug. 22 @ 1 pm CST and Thursday, Sept. 1 @ 10 am CST

Click here to learn more.