Hundreds Attend ORCAID's Second Annual ORC Conference
at Boise State University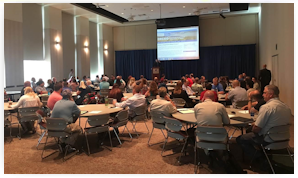 ORCAID's 2nd Annual Conference was an outstanding event. The event had hundreds of attendees, a variety of important topics and raised a significant amount of funds for the organization. This conference helped work towards the organization's mission of combating Organized Retail Crime.

The first day of the conference started off with an Introduction by ORCAID Chairman Ed Fritz, from the Boise Police Department. A presentation on Organized Retail Crime Investigations was given by Officer Cody Evans and Officer Terry Weir with the Boise Police Department. The key points were that refund fraud has seen a large increase due to the emergence of a secondary buying market for store return cards, and that credit fraud continues to occur because of the lack of implementation of chip and pin technology with various banks and businesses.

Steve Brown, an Organized Retail Crime Investigator for Fred Meyer, gave a detailed look into what an investigation looks like from initiation to conclusion. Brown discussed partnerships with other retailers, developing confidential informants, and making arrests with law enforcement. Christian Hardman, from the eBay North American PROACT & Criminal Investigations Team, gave a detailed view of what investigations look like with online sellers, and how they combat fraud. Detective Justin Elliot, from the Ada County Sheriff's Office, and Doug Kuripla, the Director of Assets Protection for Albertsons, gave a chilling view of prescription medicine fraud and the connection it has to Organized Retail Crime.

Day 1 ended with Detective Brian Holland of the Boise Police Department, who gave an eye opening look into gangs in Idaho, their connection to other states, and how they are impacting retailers.

Day 2 was a full day of training by Matthew Logan, from Panopticon Investigative Research. This comprehensive course provided tactical and practical instruction for day-to-day investigators on how to leverage the expansive growing content online to support an investigation. The training was hands on, and it provided a wealth of knowledge and resources to utilize in combatting organized retail crime.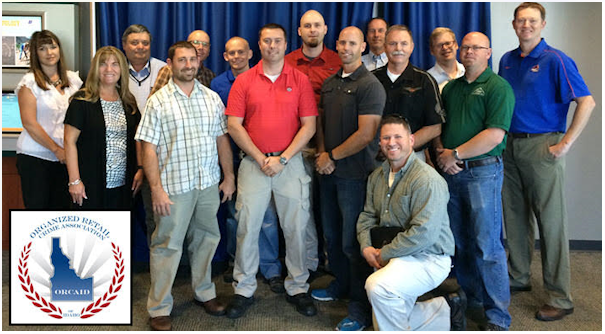 ORCAID Board of Directors - Front Row: Anthony O'Barto; Middle Row (left to right): Marlene Bock, Nicholas Kulack, Terry Weir, Cody Evans, Curtis Exley, Preston Smith; Back Row (left to right): Darcy Layman, Marlin Baker, Ben Becker, Beau Lachance, Jonathan Edwardson, Doug Kuripla, Michael Culton, Ed Fritz


If you are in law enforcement or if you are a member of retail security in the Northwest, we invite you to apply for a free membership to our information sharing website at www.orcaid.org. Follow us on Twitter @ORCAIdaho and LinkedIn for future updates.

Many thanks to Jonathan Edwardson and Ed Fritz for submitting this recap to the D&D Daily!


Update: "ORC" crew targeted ATMs & Apple stores in three states
'Mother lode' was a $172K haul from a Maine location
Four city men were accused Monday of a brazen and sophisticated series of break-ins at an Apple computer store and at ATMs that prosecutors say spanned three states over eight months, netting hundreds of thousands of dollars. The scheme started unraveling when police began tracking their cell phones and the stolen computers they registered online.

Efrain Montero, 40, of 109 River Pointe Way, and David Barker, 39, of 21 Jordan St., both in Lawrence, were arrested in raids at their homes early Monday, where prosecutor Philip Mallard said state and city police seized $82,400 in $20- and $50-bills, a 9 mm Ruger handgun and the burglary tools, gloves and masks they allegedly used during the break-ins. Six cars also were seized, including what Mallard described as "a luxury BMW."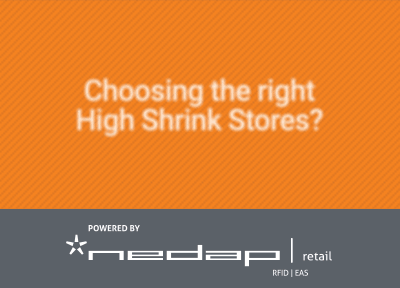 An early clue in the investigation came on Christmas morning, when Montero gave two of his children computers allegedly stolen from the Apple store in Mansfield, Mallard noted as he recited highlights of a 60-page criminal complaint in Lawrence District Court. The kids registered the gifts online with Apple, providing police with a digital trail of the loot, Mallard, an assistant Essex County district attorney, said in court.

Arrest warrants were issued for two other men, Ricardo Tejeda, 35, of 123 Lowell St., and Jonathan Santos, 34, of 20 Sherman St., both in Lawrence. The two are accused of conspiracy and larceny.

Mallard described an "organized retail crime" operation he said was skilled, organized, disciplined, nuanced, sophisticated and professional. He said the "breaking and entering crew" scouted their locations, disabled cameras as far as 100 yards away and - with one critical exception -- put their cell phones in airplane mode as they approached the Apple store and the ATMs. He said the crew broke through walls adjoining the Apple store and ATMs, disabled the alarms and retreated to see if police would respond.

Police proved as adept, tracing the stolen equipment online and tracking their cell phones, including a lone ping that one of the phones transmitted inside one of the ATMs, Mallard said. He said police were able to connect the men to several stolen cars allegedly used and abandoned in the burglaries, and also traced some of their burglary tools to a Home Depot store, where they obtained a video recording of the purchase on March 13.

The alleged crime spree began at 9:40 p.m. on Oct. 18 at Simply Mac, the Apple store in Mansfield, where the crew carried off cell phones, iPads and computers worth $120,000 and used a stolen car to make their get-away back to Lawrence, Mallard said. Mansfield police determined that the phones were turned on in Lawrence, providing a first clue that allowed investigators to begin closing in.

Many of the successful break-ins netted tens of thousands of dollars, but Mallard said "the mother lode, so to speak" came in Berwick, where he said they escaped with $172,000. eagletribune.com

Mechanicsburg, PA: Couple arrested in Bodybuilding.com warehouse burglary now charged with receiving $100K in stolen goods
A Cumberland County couple accused in a multi-county burglary ring are now charged with receiving an estimated $105,000 worth of stolen property. Robby Lee Zoller and Angela Sue Micklo were charged with receiving stolen property and conspiracy. They are charged with committing burglaries at eight businesses in Cumberland and Perry counties between November and March. Police say the investigation into the burglaries led to a search warrant for a unit at Mechanicsburg Self Storage. There they found 680 pieces of landscape lighting worth $40,000 taken from John Deere Landscapes. Also found was $65,000 worth of nutritional supplements stolen from Bodybuilding.com. Items were being sold on eBay. Zoller and Micklo, who were inside the unit, were charged on the outstanding burglary warrants issued in June. pennlive.com

Mount Pleasant, WI: Man hits 3 grocery stores for $750 in merchandise
Daniel Foxcraft stole items totaling $750.04 from two Pick 'n Saves and at the Festival Foods. The first incident occurred July 21 at the Pick 'n Save, when Foxcraft stole 10 bottles of alcohol from the store totaling $269.40. The second incident, on July 25 at another Pick 'n Save. Foxcraft was reportedly filmed on surveillance camera taking five bottles of alcohol, nine bags of candy, 31 packages of BIC lighters, and a stack of notebooks totaling $365.74. The third incident occurred July 28 at Festival Foods. Foxcraft allegedly stole 40 bottle of nail polish, several other makeup and hair products, and a bag of chips. Foxcraft faces three misdemeanor retail theft charges for each incident. journaltimes.com


San Antonio, TX: Man busted stealing $2,500 in merchandise
from Old Navy
Eddie Sanchez, 29, has been arrested on a theft charge for, together with another suspect, allegedly stealing more than $2,500 worth of clothing from an Old Navy store. An arrest warrant affidavit stated that store employees recognized both suspects because they had targeted several other locations in the past. The affidavit stated Sanchez and that other person walked into one store on June 2, loaded up bags with men's clothing, then walked out without paying for the merchandise. Store employees and loss prevention personnel told investigators they recognized not on the suspects, but their getaway car. ksat.com

Palmer Twp, PA: Boscov's LP Agent assaulted during Curtain Theft
A New Jersey faces theft and assault charges about four months after authorities allege he stole more than $400 worth of drapes from Boscov's Department store in the Palmer Park Mall. The incident occurred in March. Store security said a man took an armful of curtains, slipped away to a corner of the store and allegedly stuffed the merchandise into a plastic bag he pulled out of his jacket. As he bypassed the registers and headed out the door, a security officer tried in vain to stop him. When the Boscov's employee tried to grab the merchandise, the suspect reportedly shut the car door on his hand and drove off with $474 worth of draperies. Authorities eventually identified the alleged thief as Robert O'Brien. wfmz.com

Federal Way, WA: Sink thief caught after fleeing Home Depot

Crestwood, IL: Thief packs $300 worth of Razors into luggage, gets busted at Walmart

Exeter, PA: Police seeking Baby Formula thief who hit Walmart twice in a week

Ephrata, WA: Esther Sprague was arrested for organized retail theft at Walmart and possession of a legend drug without a prescription