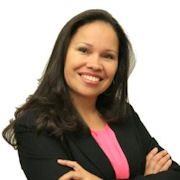 Wakefield, MA, August 4, 2016 -
Deidra Grier has been appointed Director of Marketing at Nedap, a global leader in loss prevention and RFID solutions for the retail sector. In this role, Grier is responsible for all Americas Marketing initiatives in connection to loss prevention and article surveillance products.
Patrick O'Leary, Vice President and General Manager at Nedap Retail, stated, "I am thrilled Deidra has joined the Nedap Americas Retail team. Her knowledge of the industry and diverse skill set enables her to bring a strategic vision and focus to Nedap." O'Leary added, "She will play a key role as we introduce innovations designed to bolster our position as a leader in the RFID / RF EAS Space."
Grier brings several years of retail industry experience and expertise in marketing communications, branding, and creative design. She is a highly motivated individual who is very conscientious and concerned about the final product and client needs.
About Nedap Retail
Nedap brings 40 years of global experience, market expertise and close cooperation with leading retailers. Everything we do is driven by our mission to make it simple for retailers to always have the right products available. To achieve this, we offer industry-leading solutions for our customers' diverse needs in loss prevention and stock management. For more information, visit our website:
www.nedapretail-americas.com/