GRAORCA's 6th Annual Retail Crime Conference To Be Held On Aug. 24 in Atlanta

The Georgia Retail Association Loss Prevention Council (GRALPC) and the Georgia Retail Association Organized Retail Crime Alliance (GRAORCA) will host its 6th annual Retail Crime Conference on Aug. 24 in Atlanta, Georgia.

The conference will continue to build on the mission of providing Law Enforcement and Loss Prevention professionals with opportunities to come together for professional networking, training and information sharing. The conference format will include general sessions, breakout sessions and a Vendor Trade Show.

There is no charge for law enforcement or retailers who are current members of the George Retail Association (GRA). For non-GRA retailers, there is a nominal registration fee of just $25.
For a list of speakers and topics, and to register for the conference, click here.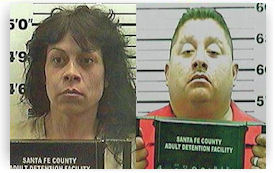 Santa Fe, NM: Couple arrested in $40,000 Kmart jewelry theft
PPolice, acting on a tip from the public, arrested a Santa Fe couple Wednesday on suspicion of stealing more than $40,000 worth of jewelry from a local Kmart store. Santa Fe Police said Jacob Paquin, 40, confessed to officers that he was the suspect shown in surveillance camera footage swiping rings, watches and other jewelry from the retailer Saturday evening. But Paquin claimed he was drunk when he visited the store that night and didn't remember the theft or where he stashed the jewelry. santafenewmexican.com


Orangeburg County, FL: $5,000 Thief has a Key to Walmart registers
Someone stole $2,619.86 from two cash registers at Walmart, according to an incident report filed Tuesday. The incident happened on Aug. 9 between 10:02 a.m. and 10:10 a.m. at the North Road Walmart. Video surveillance showed a man entering the Garden Center and using a key to access two unoccupied cash registers.

The report states the person in the video matches the appearance of a person who hit the store in January for just over $5,000 in cash. The store's loss prevention officers are working to get additional evidence and possible identities of any accomplices involved. thetandd.com

Westminster, MA: Two men charged in thefts of tools from R.K. Milles and Aubuchan Hardware
After allegedly swiping tools from two different hardware stores, two men face retail theft charges, with one also charged with possession of cocaine. manchesterjournal.com

Elgin, IL: Woman accused of stealing $1,100 of merchandise from Walmart
Shakirya D. Offette, 23, was charged with a felony count of theft, accused of taking $1,143 from Walmart. chicagotribune.com