Join us for the premier conference of the Carolinas Organized Retail Crime Alliance (CORCA)!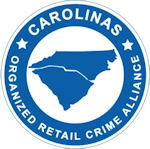 The Carolinas Organized Retail Crime Alliance (CORCA) will host its premier Annual Conference on September 8, 2016 in Charlotte, NC with a Welcome Reception on the evening of September 7.

Formed in February 2016, CORCA is a partnership organized through the North Carolina Retail Merchants Association (NCRMA) and the South Carolina Retail Association (SCRA). CORCA is an Alliance of retail businesses and law enforcement agencies working to combat organized retail crime activity in the Carolinas, through the Retail Consumer Alliance Foundation.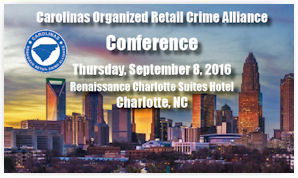 This event will bring law enforcement together with retailers specializing in asset protection, loss prevention, and emergency and risk management fields, along with prosecutors, district attorneys, and policy makers. This will provide an opportunity to network, learn about the trends surrounding retail crime in the Carolinas, and connect with vendors on innovative products in the field today. A wide-range of topics will be covered throughout the day at both the general and breakout sessions. Presentations will be focused on some of the most pressing retail crime issues, such as organized retail crime, cybersecurity, return fraud, e-commerce, emergency preparedness, asset protection technology, and the private and public sector partnerships in the Carolinas.

The incomparable exchange of knowledge will benefit retailers, law enforcement, and other partners across the Carolinas. Our area is a hub for organized retail crime with major highways, such as Interstates 85 and 95, running along the eastern corridor and right through North and South Carolina. It is imperative that we work together to strengthen and expand this alliance, because together we can better identify organized retail theft networks and combat retail crime.

We hope you will consider joining us!
For more information about this organization, contact Jessica Edwin, CORCA Program Manager, at jessicae@ncrma.org or visit www.CORCA.org.
Berwyn, PA: HH Gregg employees busted in $268,000 theft
The store's Loss Prevention reported that several employees were responsible for $267,684.27 in fraudulent transactions. During an investigation, Detectives determined that there were four actors total. The 4, all from Philadelphia were charged with multiple counts of the following crimes: Retail Theft; Receiving Stolen Property; Theft by Deception/False Impersonation, and Unlawful Use of the Computer. patch.com

Vacaville, CA: Two Arrested in Wal-Mart thefts, hitting the store since January
Police in Vacaville are breathing a sigh of relief as two members of a crew whom they've had their eye on for quite some time are finally caught and arrested. Police say the group repeatedly targeted Wal-Mart Stores Inc. (NYSE:WMT) stores in Vacaville, Fairfield and Suisun, stealing thousands of dollars of merchandise since January. Angel Morgan and Breanna Thomas were caught red handed in the scheme to knock off the Vacaville Walmart near the city's outlet stores on Saturday. Vacaville Police had been receiving information about the thieves moving the stolen items in U-Haul trucks. An alert officer spotted a U-Haul in the Walmart parking lot, and became suspicious. benchmarkmonitor.com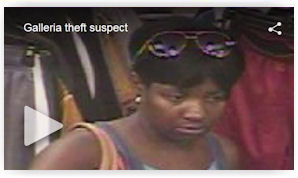 Hoover, AL: Belk shoplifter wanted for the theft of $2,500 in merchandise
Police are looking for a woman they say stole more than $2,500 in clothes from the Galleria. Last week, a woman allegedly took clothes from the Belk store and left without paying. When a loss prevention personnel tried to stop her, she started fighting with the employee. wiat.com



Battle Creek, MI: Mother, daughter shoplifting team arrested after Lakeview Square Mall thefts
A Kalamazoo area woman struck a security guard with her car as she tried to help her 15-year-old daughter get away with shoplifting at the Lakeview Square Mall, police said. The security guard was not injured and both mother and daughter -- a shoplifting team who made off with $2,300 in merchandise from several stores --were arrested, police said. Battle Creek police responded to the mall about 8:15 p.m. Friday, Sept. 2 on a report of a teen shoplifter. mlive.com

Rehoboth, DE: Two women hit Sunglass Hut at the Tanger Outlets for over $1,200
State Police need your help to find two women wanted for shoplifting sunglasses from two separate stores at the Tanger Outlets in Rehoboth. Police were called to Sunglass Hut in the Seaside Outlet on August 26 for the women stealing a pair of Burberry sunglasses valued at $255; police say later that day, the duo went to the Sunglass Hut in the Midway Outlet and stole five pairs of sunglasses valued at more than $1,000. delaware1059.com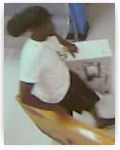 Fort Oglethorpe, GA: Computer and Television thief makes a clean get away, except for cameras
Police in Fort Oglethorpe are asking for the public's help finding a man who managed to shoplift a large television and a computer from the Walmart on Battlefield Parkway on Saturday. A post on the FOPD's Facebook page provided photos of both the suspect and the car he was driving. newschannel19.com



Tredyffrin, PA: $1,100 in Razors Stolen from CVS
CVS Pharmacy in Paoli. The store management reported that a male actor stole over $1,100 worth of razors. The case is under investigation. patch.com

Santa Monica, CA: Woman steals $293 worth of merchandise from CVS