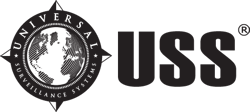 Universal Surveillance Systems Launches
StopORC.org
Website to Fight Organized Retail Crime

RANCHO CUCAMONGA, Calif., Feb. 7, 2013 --Universal Surveillance Systems LLC (USS), a leader in the fight against organized retail crime (ORC), has engineered www.StopORC.org to provide a centralized exchange for information and education in combating ORC. Designed for anyone requiring a comprehensive ORC resource such as loss prevention professionals, law enforcement officials, legislators, prosecutors, judges and students writing research papers, the site contains current news, articles, information, terminology and links pertaining to ORC.

The mission of StopORC.org is to fight organized retail crime through information sharing, education and advocacy, while strengthening the cause of loss prevention on a global level. StopORC.org is a non-commercial site that does not endorse any company or product. As a collaborative resource, StopORC.org welcomes submissions of articles and papers relating to ORC by those focused on fighting ORC. Site direction is provided by an advisory board comprised of experts in ORC. There is no cost to utilize the site, but only pre-qualified users can access restricted sections to prevent sensitive industry information from being disseminated to the general public.

USS President and CEO Adel Sayegh said, "Each year ORC thieves bleed over $30 billion from retailers, and it has to stop. That's why USS created StopORC.org: To organize and give everyone dealing with ORC the necessary knowledge and resources to stop the bleeding. Our pledge is 'Justice is coming.' We urge everyone involved in combatting ORC to join this movement through StopORC.org. Engage, collaborate, learn. The time is now."

In addition hosting information such as white papers and news, StopORC.org will also be launching a series of free motivating educational webinars and podcasts on ORC given by professionals in the loss prevention, legislative, law enforcement and academic fields. The first StopORC Webinar is scheduled for late February. Details will be available on the website.

For more information, visit www.StopORC.org or call 1-800-488-9097.

The website can also be found on Facebook at https://www.facebook.com/USSOrganizedRetailCrimeFoundation and followed on Twitter at https://twitter.com/stop_orc.