May 23, 2011


George and Frank Luciano of Civil Demand Associates, Inc.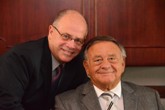 A Father & Son Story
Putting the retailers brand 1st with compassion & respect

In 1986, on my first trip to Los Angeles, I found myself in George Luciano's office when he was the Vice President of Loss Prevention for Zody's, a now defunct retailer. Having just started our search business three years earlier and not having a lot of these types of meetings under my belt, I was a little nervous. After all, George was a well-known industry leader that knew everyone, including my father who had been in the LP industry as well for 30 years. With that pressure and being a young upstart, I was absolutely elated to find an industry leader who was so engaging, open and gracious that, to this day, that meeting stands out in my memory.

This man took the time to meet with virtually an unknown headhunter at the time and share his thoughts, his vision and his genuine passion for the industry. And that's where I first learned about his passion for the contribution that a civil demand program can make to an LP program and the impact it can have on a retailer. Little did I know at the time that George Luciano was becoming one of the pioneers of an industry that has become a significant contributor to the retail industry's ability to legitimately recoup their cost, generate revenue and reduce shrink all in one process.

In the 80's, George was a consultant with Civil Demand Associates and, in 1990, became part owner. George early on engrained his sense of passion and integrity into the fabric of the company and, in 1988, they hired his son, Frank Luciano. With the apple not falling far from the tree, Frank brought the same passion and integrity and started off doing every job imaginable and earning his stripes while under the watchful eye of his father -- something this writer can attest to as being a double-edged sword.

With the first question from virtually every retailer in the beginning being how's your Dad, and understanding the impact he could have on his father's reputation, Frank quickly became a subject matter expert in the business. This professional and personal necessity coupled with George's leadership, knowledge and network enabled Frank to start building his own reputation and, quite frankly, helped lead to Frank becoming one of the industry's national experts on civil demand today.

As the first independent company to offer this service to the retail industry, Frank has managed it over the last 23 years with an emphasis on listening to the industry and being committed to constantly improving performance and enhancing recoveries. Understanding their value proposition, Frank has led their seamless integration efforts by building interfaces for the various case management systems in the industry and being actively involved in numerous state legislative efforts regarding civil recovery statutes.

Their commitment to the industry goes beyond the function and extends, similar to extended family relationships, to their family of clients. Insofar as protecting their clients' brand and representing it both professionally and compassionately by handling each case -- each call with respect and with the understanding that they have an obligation to take care of their clients' customers. While oftentimes they're dealing with the nation's youth they realize, once again, that it's all about family and, while they have a job to do, it's also about helping kids and working with parents.

With over 150 clients, this firm has added value to the industry and their guiding three principles -- is it good for the industry? -- is it good for the company? -- and is it good for the people? -- exemplifies their long history and success and shows their core values.