Top six retail loss prevention trends for 2013

By JENNIFER OVERSTREET | Published: MARCH 12, 2013

Dealing with everything from shoplifting to extreme weather, the retail loss prevention profession requires constant vigilance in order to protect employees, customers and assets.

While the range of threats is far-reaching, a few continuing and evolving trends are shaping the industry in profound ways. To explain the retail loss prevention landscape, we asked Rosamaria Sostilio, Senior Vice President of Asset Protection at Saks Incorporated and Vice Chair of NRF's LP Advisory Council, to share her observations about what to watch this year.

Read on for Sostilio's description of the top-of-mind concerns for retail loss prevention officers, many of which will be explored in detail at this summer's NRF Loss Prevention Conference & EXPO.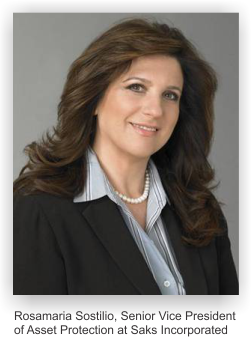 1. Increased concern over violence in apprehension of shoplifters
Retailers are acutely aware of the too many violent incidents that have resulted in injury or death for LP or security officers, police officers and the suspects over the past year.

"We're seeing increased violence in certain pockets around the country, and this is prompting loss prevention professionals everywhere to evaluate their response plans and step up communication and training with their associates to keep them safe and make sure they're careful when they're making apprehensions."

2. Emphasis on emergency response plans
Retailers and other property managers struggling to develop comprehensive emergency response plans and training that can be quickly and effectively executed during shooting incidents in and around retail centers. Business continuity and recovery plans are also in the spotlight after the number and severity of recent storms caught some businesses off guard.

"Retailers are realizing that not only do they need a great emergency response plan, but that it needs to be rehearsed and communicated down the chain appropriately. The key is to get all the appropriate business partners – from media relations to operations and stores – in a room to talk about what could happen and what the company's response would be in the situation. Then, the cascading of that communication and rehearsal of the plan is essential, so that employees have some sort of comfort level with it. The same is true for business continuity and recovery plans. Retailers are now beginning to step up these efforts."

3. Retailers and law enforcement taking organized approach to fight ORC
Organized retail crime continues to be a concern for retailers, but more retailers and law enforcement agencies are joining forces to curb it effectively.

"Every region has its own type of organized retail crime, so partnering with local law enforcement as well as your fellow retailers and mall management is critical. Regional ORC associations are finding new ways to help police, other law enforcement agencies, prosecutors, retailers and mall management share information and discuss how to identify and apprehend ORC gangs. Networking and sharing information is critical because nothing is unique to one retailer, and there's definitely strength in numbers. That's why meetings like the NRF LP Conference and Fusion Center are so important, as well."

4. Incorporating emerging technologies
New technologies introduce new opportunities as well as new threats, and loss prevention professionals will be spending more time with senior leadership evaluating advancing technologies along with the effect social media is having on the profession.

"Video analytics, facial recognition software and mobile POS are all hot new technologies out there being tested in the community right now. And while the growth of social media can be a liability and make our jobs a little more difficult, we're also using it more and more as an investigative tool. One other area where retailers are stepping up is deploying business analytics programs that focus on point of sale and returns in conjunction with enhanced video surveillance. These programs not only help the LP teams but they can help manage the overall business strategies, efficiencies and control fraud."

5. Developing background screening practices
Developing practical and effective background screening practices in light of the Equal Employment Opportunity Commission guidelines released in April 2012 continues to be a challenge for retailers and other organizations.

"When it comes to employment pre-screenings, a lot of companies are assessing what policies work and what the EEOC guidelines mean for them. Those interested in how these legislative issues are impacting the industry should get involved in our LP Legislative Committee and share their insights and possible solutions."

6. Greater career growth opportunities in LP
As technology and multichannel models begin to create new opportunities in LP, more retailers are understanding the value of what LP brings to the table.

"Loss prevention professionals are becoming more engrained in the retail business and companies are realizing the talent that's out there. LP touches almost every part of the business, so the more business savvy you are, the more interested you are in learning about your own company, the farther you can go into a senior officer position, not just in LP, but in other areas from HR to operations."

These trends and more are shaping the developing agenda for NRF's Loss Prevention Conference & EXPO, June 12 to 14 in San Diego. Visit www.nrf.com/lp13 to learn more.

---
This article was published by and recently appeared in LP portion of Retail's BIG blog, a part of the National Retail Federation's (NRF) website. An excellent resource for LP executives to incorporate in your quest for information and education of the LP industry. This is an industry leading publication and one of the best, if not the best, resource for industry leading, thought provoking material that you need to use as you continue to build your career.