Industry Veteran and World Leader
Larry Yeager, recently retired, former VP of Alpha High Theft Solutions
on
Building World Class Teams - The Key to His Success

By Gus Downing
Publisher & Editor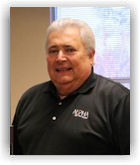 All industries are comprised of two groups. The actual practitioners and the solution providers who support and help drive the performance and results of the industry itself by providing products and services the practitioners can use to accomplish their goals.

Often times undervalued and jokingly (at times) referred to as the 'dark side', solution providers have over the years helped to contribute the vast majority of product innovations and answers to the retailer's most difficult problems. Some would even go so far as to say that the industry's continued shrinkage reduction trend in the face of reducing payrolls is in large part as a direct result of the innovations created by these teams.

Many years ago one of the most quietly influential practitioners and industry leader, Fred Wilson, pointed out that his "industry partners", the solution providers, were critical members of his team and that he relied heavily on the leadership of those teams to help resolve and answer his problems and challenges.

Understanding their significance and the role they play, one must also realize that solution providers too are driven by the same principles that successful retailers measure, such as innovation in your space and excellence in customer service. For solution providers, these principles take the form of the products and solutions they offer, the leadership team that guides them and the team that supports their offerings to the market.

Given those principles and adding the requisite of over 25+ years of success at building world class teams and developing innovative solutions, Larry Yeager, the recently retired and former VP and leader of Alpha High Theft Solutions, qualifies and exceeds what anyone would define as a world wide industry leader.

Learning and developing his leadership skills with two tours in Vietnam in the U.S. Navy and spending nine years with AT&T's Western Electric as a quality control engineer, he learned early on the value of teamwork, communications, and leadership.

Entering the retail Loss Prevention industry in 1976 with Checkmate, an EAS provider, and quickly progressing to the role of President & CEO within three years is testimony enough to the lessons learned and more importantly to his ability to use his knowledge to successfully drive that business to a very profitable sale in 1986. Just six short years after assuming the leadership role.

Simultaneously of this, in 1983 Larry actually led the start-up of Trident Security. A company whose success in electronic display security led to its sale to Protex in 1991.

Joining Alpha in 1993, Larry quickly realized the industry need for this highly specialized organization. He went on to build a team that grew the company four fold by 1999 and expanded the company internationally in Latin America and Asia. With team work, developing retail partnerships, and new product development as his mantras, Larry built the company into a great acquisition for Checkpoint Systems in 2007. He remained as VP and General Manager for the division, and five quick years later and on the exact day they joined Checkpoint, November 2, Larry Yeager now finds himself in the enviable position of hitting golf balls into the ocean (and into trees, and lakes, and bunkers).

Having managed and steered three successful organizations to sale, all of which were driven by his ability to lead and produce value for the retail Loss Prevention industry, is an accomplishment few can claim. Reluctant himself to claim any of it, Larry very humbly points out that he would not be where he is today if it were not for the people he had on his team. As he quickly says he may not be the smartest guy but he was good at assembling people who were the best at what they did. A trait that's rather evident when considering the scope of his accomplishments because as we all know it takes a team to be highly successful.

Over the last few years the leadership team at Alpha have all spoke to Larry's abilities as a leader and almost in sync with each other they mirror his communicative abilities and messages as though they're speaking from the same book. A quality and uniformity that's rare and impressive.

The continuity in their message and their ability to keep it in front of them, pushing them in the same direction is an engrained culture that transcends one leader and has led to Alpha's strength in the market. Larry knew full well what he was developing and in his opinion "Alpha's senior leadership team is at the top of their game", and therefore it was the perfect time for him to move aside and allow the team to continue to drive solutions for their retail partners.

It's not often that solutions providers are singled out for their industry contributions and accomplishments. But in this case being able to successfully drive three organizations whose sole purpose is to drive value to the Loss Prevention industry, is an accomplishment worth noting and one that will undoubtedly continue at Alpha based on the culture and leaders Larry left behind.

So the next time you meet with a solution provider don't be so quick to call it the 'dark side' because you never know, you may be meeting with another game changer just like Larry. Because over at Alpha they have a few of them who learned from the best.