American Dynamics Makes Powerful Video Management Accessible to Small and Medium Sized Businesses

New client options make the VideoEdge portfolio a more intuitive and
cost-effective VMS solution

WESTFORD, MA – April 4, 2013 – American Dynamics, part of the Security Products business unit of Tyco (NYSE: TYC), is introducing new ways to manage and interact with VideoEdge video management systems: VideoEdge Hybrid and Desktop/Mini-Tower NVR with VideoEdge Client and victor Express Client.

Previously considered relevant mostly to large, enterprise customers, the VideoEdge NVR portfolio has undergone a transformation over the past two years, to include smaller, lower-cost recording platforms, with two new intuitive client solutions.

The VideoEdge Hybrid is a powerful, high-performance NVMS that records and manages video from both analog and IP cameras, protecting your video investments. The Desktop/Mini-Tower NVR offers 200Mbps throughput (100Mbps to storage and 100Mbps playback to clients), the highest in the industry. Both recording platforms are ideal choices for small to medium size businesses.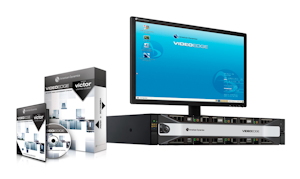 The new VideoEdge Client brings powerful video management directly onto the VideoEdge recorder. This intuitive client allows you to manage and monitor high-performance video streaming, audio, video analytics operations and event management. You can also perform date, time and Smart Searches quickly and easily as well as forensic searches using the onboard investigator mode. Easy to set up and use, the VideoEdge Client is designed specifically for single site, single recorder applications

For customers securing single sites with multiple recorders, the new victor Express Client introduces a revolutionary way to enjoy the power of video unification without the high price tag or bigger system overhead. As part of the victor unified client portfolio, victor Express still offers the ability to manage video from multiple Intellex DVRs, and VideoEdge NVR/Hybrids from a single intuitive interface. By removing the victor site manager requirement which provides more enterprise functionality such as command center, access control unification and integrated policy management, victor Express provides single site applications a powerful way to manage multiple recorders. Those enterprise features are available with the victor Professional Client.

"Our VideoEdge portfolio has had tremendous success in places such as university and medical campuses, multi-site corporations, and Fortune 500 businesses; so much so, that we've been asked by customers in smaller applications for a solution more fitting to their needs. The new Hybrid and Desktop/Mini-Tower NVR with the new clients are the direct result of listening to those customers," said Shahar Ze'evi, senior product manager for American Dynamics.

In addition to the new client solutions, customers can also use the new VideoEdge Go mobile application to view and manage video from any of their recorders, providing powerful visibility on the go.

The entire VideoEdge and victor portfolio of video management solutions is available through American Dynamics' worldwide distribution channel.

Contact:

Kim Kuhn
Sr. Marketing Manager
(978) 577-4176
kkuhn@tycoint.com
###
About American Dynamics
American Dynamics video technologies are part of the Security Products business unit of Tyco (NYSE: TYC), the world's largest pure-play fire protection and security company. American Dynamics continuously advances video technology via its IP solutions, while leaving no customer behind – ensuring backwards compatibility at every step. The American Dynamics portfolio features everything required for a complete, state of the art video surveillance system including a powerful enterprise analytics platform.

American Dynamics solutions work seamlessly with Tyco Security Products access control products, as well as with other important business applications, to provide customers with greater ease of operation and faster access to the information they need in critical situations. To learn more about American Dynamics solutions, visit www.americandynamics.net.

Tyco Security Products and its leading brands conducts business in over 176 countries around the world, in multiple languages and employs over 2,700 employees globally, including research and development, marketing, manufacturing, sales, service and logistics teams in the Americas, Europe, the Middle East, Africa, and Asia Pacific. Our products, built by developers from all product disciplines, consistently allow customers to see more, do more, and save more across multiple industries and segments including healthcare, government, transportation, finance, retail, commercial and residential. Worldwide, Tyco Security Products helps protect 42% of Fortune 500 companies, transportation systems on five continents, 37% of the world's top 100 retailers, over two million commercial enterprises, thousands of students in more than 900 educational facilities, and over five million private residences.