| | |
| --- | --- |
| | The New Industry Benchmark in Crime Risk, SecurityGauge Helps Retailers Pinpoint Violent Crime Risk with Unparalleled Accuracy |

D&D readers may recall our previous article which showed how SecurityGauge predicts retail shrink with such high accuracy that it empowers retailers to more effectively deploy security resources, reduce shrink, and increase profitability.

But for many retailers, reducing violent crime such as armed robbery is even more important than reducing shrink. Violent crime directly impacts the safety of employees and customers, raises questions of legal liability, and can greatly harm your reputation. When violent crime strikes, it also drains valuable executive resources and can drive large litigation expenditures. Retailers tell us they are looking for solutions that help them address violent crime head on.

SecurityGauge delivers forecasting insights to loss prevention teams with predictive accuracy consistently between 90 and 99 percent for rates of armed robberies, alerts, burglaries and other disturbances. This empowers the loss prevention team to make better informed decisions regarding strategies to prevent violent crime.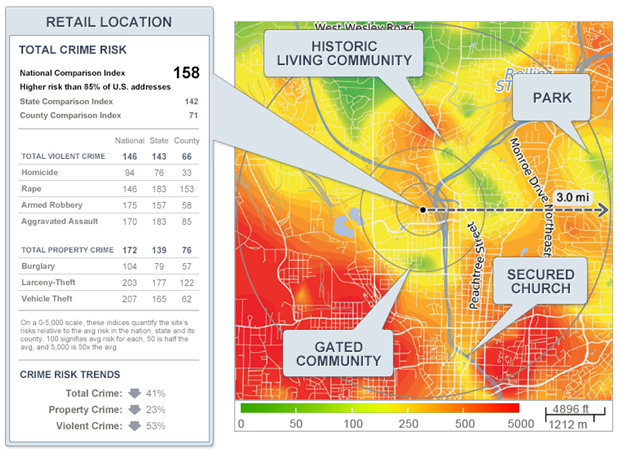 In a recent test of 1,000 stores, SecurityGauge predicted one retailer's armed robbery, burglary, alert, theft and disturbance experiences each with greater than 98% accuracy.

Armed with the unprecedented precision of SecurityGauge, retail store operations and loss prevention teams proactively combat violent crime at stores by:

| | |
| --- | --- |
| - | Objectively allocating new and existing stores into low, medium and high risk categories with tailored security packages for each. |
| - | Presenting vivid SecurityGauge maps to executives to convey risks and gain approval for security plans. |
| - | Establishing a positive environment for customers and employees through proactive rather than reactive identification of stores at highest risk of violent crime. |
| - | Reducing high litigation costs associated with violent crimes at your stores. |
Are robberies and other violent crimes top of mind for you and your executives? Contact us today to discuss how we can perform a violent crime risk test for your organization*.

Visit us to get your FREE SecurityGauge Report at the RILA Asset Protection conference, booth 129 or NRF Protect conference, booth 1450.

About Location, Inc.:
We're inventors focused on location-based Big Data analytics. Many of our SaaS technologies are patented, patent-pending, exclusive or proprietary, and have been refined over a decade of research and real-world validation. We pride ourselves in methodologies of the highest caliber utilizing a rigorous quality-testing regime to ensure precision at every step. We'd love to hear about your biggest challenges and explore solutions with you.