FBI: Three More Defendants Sentenced to Prison Terms in $2.7 Million Theft of Mucinex and Similac
Three additional Miami-area residents were recently sentenced to prison terms in connection with violations of the Safe Doses Act, pursuant to provisions under Title 18, United States Code, Section 670, which prohibit theft of "pre-retail" medical products. A total of eight defendants have been convicted in connection with a cargo theft scheme. Wifredo A Ferrer, United States Attorney for the Southern District of Florida, George L Piro, Special Agent in Charge, FBI, Miami Field Office, and David W Bourne, Special Agent in Charge, Food and Drug Administration, Office of Criminal Investigation (FDA-OCI), Miami Field Office, made the announcement. Jorge Nimer Rolo, 48, Lazaro Martinez, a/k/a "Fat Laz," 45, and Antonio Ramirez, a/k/a "Tony Bodega," 54, were recently sentenced to prison terms in connection with a scheme to steal pre-retail medical products, including more than $2.2 million worth of Mucinex cough medicine and $550,000 worth of Similac baby formula, as well as other merchandise. According to the indictment and documents filed in court, as part of an organized theft ring, 44 pallets of Similac were stolen by the defendants and their co-conspirators from a distribution site in Fort Worth, Texas, and more than 18,000 cases of Mucinex were pilfered from a tractor-trailer truck in Richland, Mississippi.
7thspace.com
ID theft ring of 7 preyed on NorCal Target stores - 2,200 victims
Thousands of people across Northern California have been victimized by a Sacramento-based identity theft ring that preyed on Target stores, according to a criminal complaint by the U.S. Attorney's Office representing the Eastern District of California. The criminal complaint details how the seven defendants from Sacramento were part of a conspiracy to purchase televisions, iPads and other big-ticket items using fraudulent accounts. Federal investigators also uncovered "at least 500 counterfeit or unauthorized access devices," Yelovich said. "Target REDcard accounts, which are credit/debit cards that are proprietary to Target and issued to customers of Target, were used in an unauthorized manner by members of the conspiracy. The identity theft ring allegedly procured stolen mail from cluster mailboxes, allowing easy access to victims' names and banking accounts - adding up to thousands of victims so far - in an ongoing investigation.
kcra.com
Attempted theft charged against Brooklyn Park man
36-year-old Brooklyn Park man, Mason Michael White, faces charges of possession of shoplifting gear, attempted theft of over $1,000 and a controlled substance crime in the fifth degree, possession, following a May 20 incident at a Hastings store. According to the criminal complaint, Hastings police were called about 5 a.m. that day to the store on the report of a shoplifting in progress. When they arrived, officers spoke with the loss prevention employee. The employee said he observed the male suspect cutting "spider wire" anti-theft devices on many items. The officers and the employee observed surveillance which showed the suspect select a large box containing a child's toy. He cut the box open and set the toy aside. Then he walked through the store selecting toys and shavers, removing the anti-theft devices and placing the items in the large box.
hastingsstargazette.com
Albertsons/ Safeway ORC teams with Denver Police to bust a Baby Formula Fencing Operation
Two people arrested in a baby formula fencing operation have been accused of taking stolen merchandise and selling some of it online. "Over the course of a few months our stores lost roughly between $60,000 and $100,000 worth of product," said Safeway spokeswoman Kris Staaf. Police arrested Donald Dowling, 39, and Danielle Smith, 33, after executing a search warrant related to a fencing operation on a home in Arvada. "They had a ring going where it was coming out of the store as a theft, then going to a fence who was buying it for a lower rate and then selling it online at a lower rate for the consumer," said Denver Police spokesman Sonny Jackson. The investigation started with the Albertsons/Safeway Organized Retail Crime Investigators before it was turned over to Denver police. The stores provided investigators with information on a group of pattern shoplifters that were stealing baby formula from Safeway stores in Denver and selling the items to a couple in Arvada. According to court documents, Safeway's team went with a confidential informant to Dowling's home in Arvada and sold him $1,000 worth of marked baby formula for $400. The same team then purchased the items from an online site.
cbslocal.com
2 men try to steal over $2,000 in vacuums from Target in Orange, CT
Two men were arrested for attempting to steal over $2,000 worth of vacuum cleaners from the Target store in Orange last week. Police say they responded to the Target at 25 Boston Post Road around 11 p.m. Friday to the report of shoplifting. There, officers learned that 50-year-old David Adams, of Bronx, New York, and 54-year-old Arthur Richardson, of an unknown address, had filled their two shopping cars with vacuum cleaners. The men had ripped off the security tags and attempted to remove the vacuums from the store without paying, before they were stopped by store security and detained for police. The two shopping carts full of vacuum cleaners totaled $2607.35.
wtnh.com
South Charleston, SC Police arrest another Out-of-State Group using "fake" credit cards
Police say another group of out-of-towners was found using fake credit cards at stores on Corridor G and arrested Friday. On May 19, six people from New Jersey were arrested with stacks of magnetic-stripe cards re-encoded with stolen credit card numbers. In Friday's incident it was a group of four from Chicago. South Charleston police were dispatched to the Wal-Mart on Corridor G in response to a complaint about four women using stolen or altered credit cards inside the store. Once all four women were back in the Jeep, they began tearing off tags and throwing them out the window and onto the ground, the complaint stated. The police moved in and detained the women. The police found numerous pieces of clothing and merchandise tags laying around and under the vehicle. Matthew Chiders, a Target loss-prevention associate, later notified the police that each of the four women had used four fake cards at that store earlier, including photographic evidence of the women. There were 75 fake credit cards in the three stacks found in the center console, according to a later count by the Secret Service, who were contacted by the police.
charlestondailymail.com
One shoplifting call leads to even more arrests at Colorado Springs Kmart
While police officers were investigating a shoplifting incident at a Colorado Springs Kmart on Sunday night, they caught two more people allegedly stealing items from the store. Colorado Springs police were called in just after 7 p.m. Sunday to the Kmart on the 3000 block of North Nevada Avenue to investigate a shoplifting suspect, who turned out to have a felony warrant for dangerous drugs, according to a police statement. While talking to a Kmart loss prevention officer, officers spotted "two additional unrelated subjects" on the surveillance cameras allegedly shoplifting, police said. The suspects "had several outstanding felony and misdemeanor warrants and both possessed a small amount of suspected methamphetamine," police said in their report. "One of the subjects was identified as a criminal street gang member and had items believed to be utilized to combat security devices applied to high-value merchandise," the police statement said. Several IDs and credit cards believed to be stolen were found on the shoplifting suspects.
gazette.com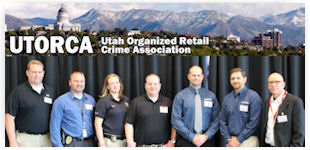 ORC Associations, send us your
Group LP Selfies - Show off your partnership to the industry!
Last week
, the Utah Organized Retail Crime Association sent us a picture of their Board of Directors at a recent organization meeting. UTORCA's 'Group Selfie' features individuals from both the law enforcement and retail communities who have been working together to fight retail crime in Utah. We at the D&D Daily liked the picture so much that we are now inviting all ORCAs throughout the country to submit their own team photo. Get in on the fun! Show off your team pride to the industry!
Submit your group selfie here
.